THE expectations were high. After all, I was very curious to know what the most autonomous and electric car on the market was worth. And, for starters, there is nothing better than talking about what was first seen after joining the Mercedes-Benz EQS 450+. Despite the bold little design on the outside, the interior is one of those that we as children would think: "Wow, this is a spaceship?"
The numbers, the size of the digital screens and the lights all take us to a futuristic car that, in fact, is not futuristic. It is a current part and is available from 121,550 euros. Allow me to talk further into this EQS 450+. This model has the largest dashboard ever installed in a car. There are 1.41 meters of screen, divided into three independent – 12.3 "instrument panel, 17.7″ center and 12.3" front passenger. familiarize yourself with all the options available in the multimedia system. It ends up taking time and I always felt, with each use, that I was always discovering something new.

Still on the interior, there is nothing to mark in terms of comfort and accommodation. The EQS 450+ deserves the title of 'one of the most comfortable modern cars'. The way the seat 'hugs' us and all the space we have anywhere in the car is a 'plus'. This is also due to the size of this EQS. We know that batteries need space, but the over five meter length of this salon makes it too big for some tastes.
With two electric motors, the combined power is 333 hp and 580 Nm of torque. A short number compared to the 580 model, but that makes up for a maximum range of 780 km. This is the main feature of the Mercedes-Benz EQS 450+, being one of the most autonomous vehicles on the market. However, forget about charging from a simple internal socket, otherwise it can take up to two days to charge the battery with a capacity of 107.8 kWh. The fastest is to recharge it up to 200 kW at the fastest station, which translates into 300 kilometers charged in just 15 minutes. With a standard 11 kW on-board charger (for AC), full charge time is 10 hours.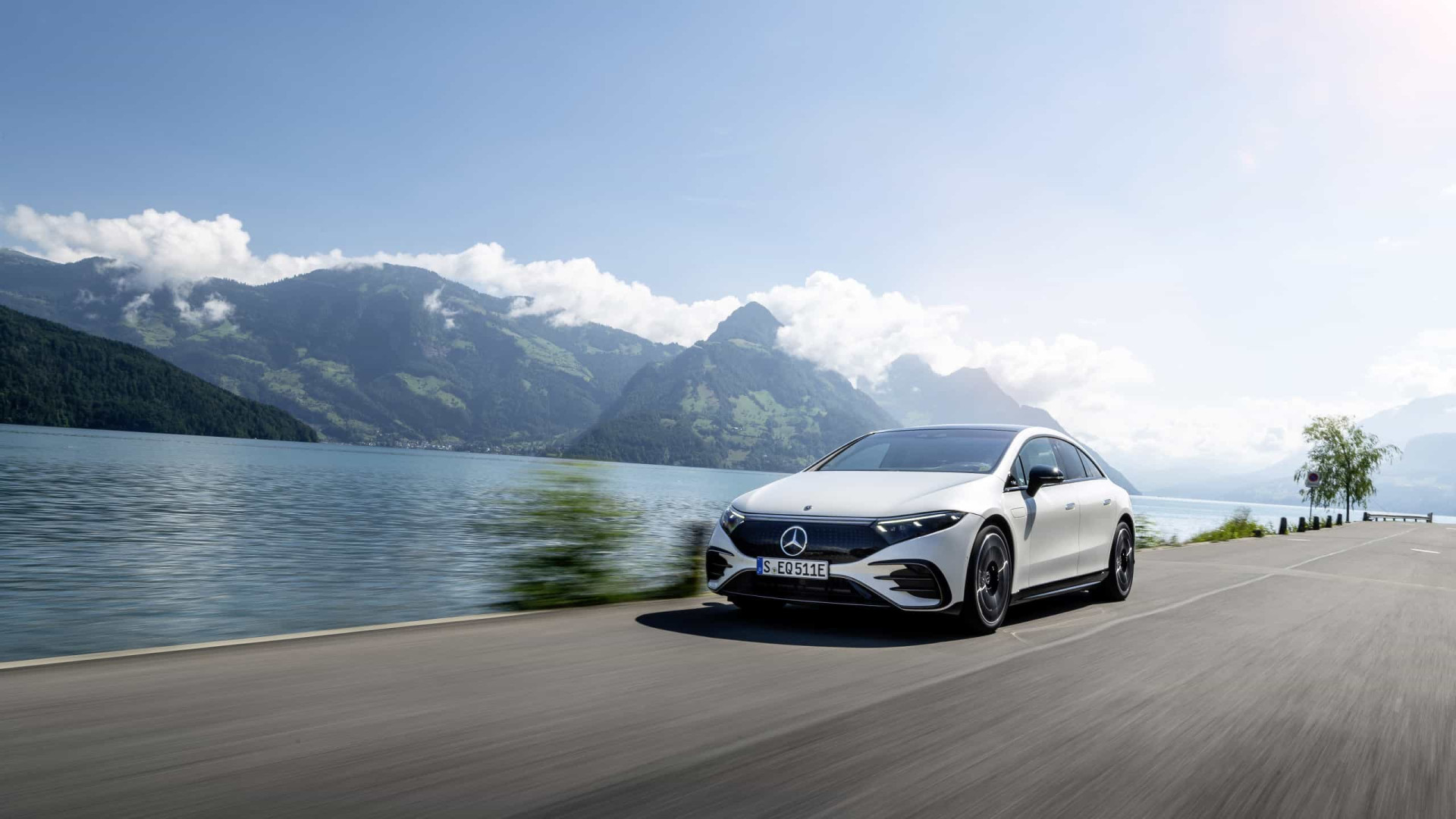 On the road, despite being heavy – almost 2.5 tons – the EQS 450+ is stylish and comfortable combined with an almost floating air suspension. Rear-wheel drive is very limited and doesn't allow for great adventures, not least because that's not what this model wants. With different driving modes, the suspension changes and, for example, in Comfort mode at 120 km / h the body lowers by 10 mm to reduce aerodynamic drag, and another few millimeters at 160 km / h for the same reason. In addition to Comfort mode, there is Eco and Sport.
Behind the steering wheel there are also paddles that control the level of energy recovery – D+, D and D- – and it is through them that the driver can adapt to his driving. In D+ mode, as an example, we can say that the foot brake is completely innocent due to the way the EQS+ closes itself to regenerate itself.
A word also for blocking a sound that is loud. If you like silence, this is the car for you.
TECHNICAL INFORMATION
Mercedes-Benz EQS 450+
MOTOR
| | |
| --- | --- |
| Type | permanent synchronous electricity |
| Ability | – cm3 |
| strength | 333 hp |
| Number | 568 Nm |
| Dance | Lithium ion – 107.8 kWh |
SECRET
| | |
| --- | --- |
| Tension | behind |
| Gear box | Automatic box |
CHASSIS
| | |
| --- | --- |
| Suspended | FR: Interlocking independent triangles; TR: Most independent hands; Pneumatic suspension |
| brake | FR: air discs; TR: Air discs |
| Direction | electrical support |
DIMENSIONS AND CAPACITY
| | |
| --- | --- |
| Comp. Width of xx Alt. | 5216 mm x 1926 mm x 1512 mm |
| Length between axis | 3210 mm |
| capacity of the box | 610-1770 l |
| Wheels | FR: 235/55 R19; TR: 235/55 R19 |
| Weight | 2480 kg |
BENEFITS AND USE
| | |
| --- | --- |
| Maximum speed | 210 km/h |
| 0-100 km/h | 6.2 sec |
| Independence | 631-784 km |
| mixed use | 16.7 kWh |
| CO emissionstwo | 0 g/km |
9.5
0-10
ANALYSIS
It cannot be avoided that this Mercedes-Benz EQS 450+ is a reference in electric sedans. For almost 800 km it must be. It has already managed to cover the entire N2 in one payment and that speaks for itself.
The exterior, in my opinion, doesn't match the interior and with the improved exterior design, this EQS had everything to deserve a high score. There are many technologies and the list of extras in the practiced version is extensive. This car, designed for comfort, has little, can miss is many euros in your pocket, as the price of this model is not available to any driver.