Gazoo Racing, Toyota's sports division, has confirmed that the Hilux GR-Sport will be the new support vehicle for Toyota. stock car.
In terms of appearance, the image received new stickers to participate in the event, as well as gyroflex support on the roof. The GR-Sport version continues with the new style of 17-inch alloy wheels, with a unique design, and 265/60 R17 all-terrain tires.
+ Toyota Hilux and Corolla Cross are more impressed in the GR-S version
+ Comparison: Toyota Hilux vs. Jeep Gladiator
+ Rating: Toyota Yaris Hatch XLS does more than 14 km / l; Take a look
+ Used Car: Toyota Prius is a R$ 60 thousand hybrid that does up to 30 km / l in the city without needing a plug
+ Confirmed: Toyota Corolla GR arrives in Brazil in 2023
The model, produced in Zárate, Argentina, has a 2.8 liter, in-line-four cylinder, 224 hp diesel engine, with a geometry turbocharger (TGV) and intercooler (1GD), along with a six-speed automatic. gearbox..
Improvements to the Hilux in this version include 20 hp power compared to others, improved suspension, which provides dynamic behavior, as well as renovations in the exterior and interior design.
Stock Car next steps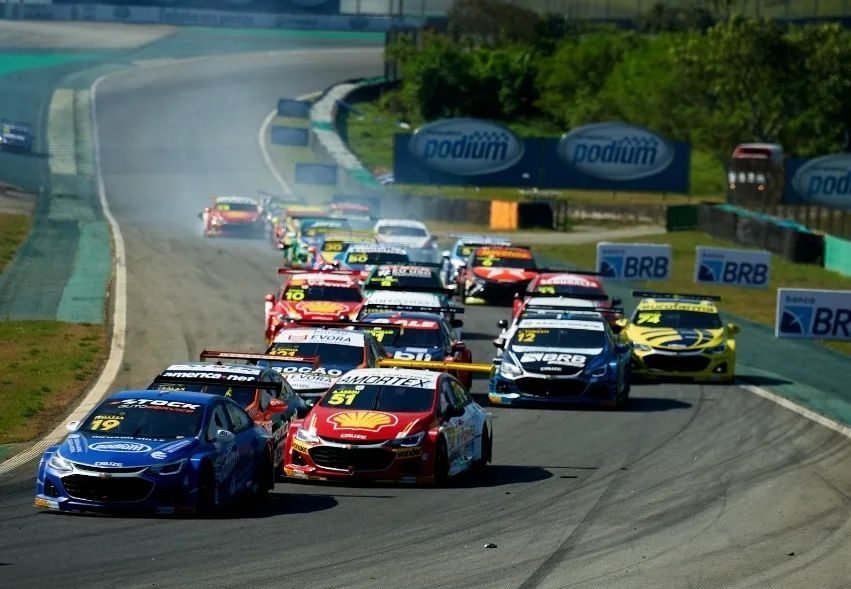 Stock Car will still have five more stages this year: Velocittá (SP), Santa Cruz do Sul (RS), two in Goiânia (GO) and Brasília (DF).
MORE ABOUT THE MOTOR SHOW:
+ Honda begins pre-sales of the new HR-V; check the price
+ The BMW R 18 arrives in Brazil with the brand's biggest boxer engine
+ Formula 1: Williams is renewed by Alexander Albon for 2023
+ Electric Car Comparison: Peugeot e-208 GT vs. Mini Cooper SE vs. Fiat 500e vs. Renault Zoe
+ Cars made in Brazil get a new IPI reduction
+ Is the registration car worth it? Check out the full guide with prices, pros and cons
+ License in SP: payment for plates 3 and 4 ends in August
+ Ferrari Testarossa 1988 in one color will be auctioned
+ Sales of passenger cars 0 km increase by 9.6% in July
+ Comparison: Jeep Commander vs Caoa Chery Tiggo 8
+ The price of oil continues to fall; see where it's cheaper
+ Fiat Fastback: The new SUV coupe has an unveiling date