All it takes is an announcement from Elon Musk for the price of Teslas on the used market to jump or fall. In this game of chance, there are sometimes winners, but usually more losers.
The announcement of the arrival of the Model Y for less than €50,000, on August 26, 2022, sparked immediate interest. Model 3 owners saw this as an opportunity to get a more family-friendly model upgrade, and swung their credit card to order one. Except that it clearly played against them in the secondhand market. In the game of supply and demand, some are not immune to the cold shower.
Like the stock market price, the value of used Tesla models is subject to change, apart from the normal trends of the used market of other manufacturers. Buying a Tesla is also a new way to approach the car, with its good and bad sides.
If there are speculative bubbles in cars in the luxury and collectible segment, Tesla is the first manufacturer to favor them at its expense for consumer models. They're not the first Model S buyers to say the opposite: they were the first to get dizzying discounts following unpredictable announcements from Elon Musk.
When the secondhand price bubble goes *plop*
In recent months, the price of Tesla has followed a trend, as is the case with many other recent cars. Faced with equipment shortages and long lead times for acquiring new cars, customers have turned to the second-hand market. Demand was strong and sometimes difficult to meet, prices began to rise.
After more than 6 months of driving their Model 3 or Y, some owners were offered trade-in offers at a higher price than their new purchase price. Several testimonials on Tesla's private Facebook groups confirmed this possibility of easily realizing capital gains. A unique situation, which only works when the demand exceeds the supply.
Until then, the price levels followed a normal and gradual evolution, going up or down. Except Tesla's expertise is amazing. That's what the company did on August 26, when it launched the Tesla Model Y Propulsion for less than €50,000. With such a release, several Model 3 owners, or people with purchase orders for a Model 3 or Y for delivery later in the year, placed a new order on American manufacturer's website. If we can imagine this kind of optional purchase of the new iPhone 14, it is always surprising to look at it with cars costing tens of thousands of euros.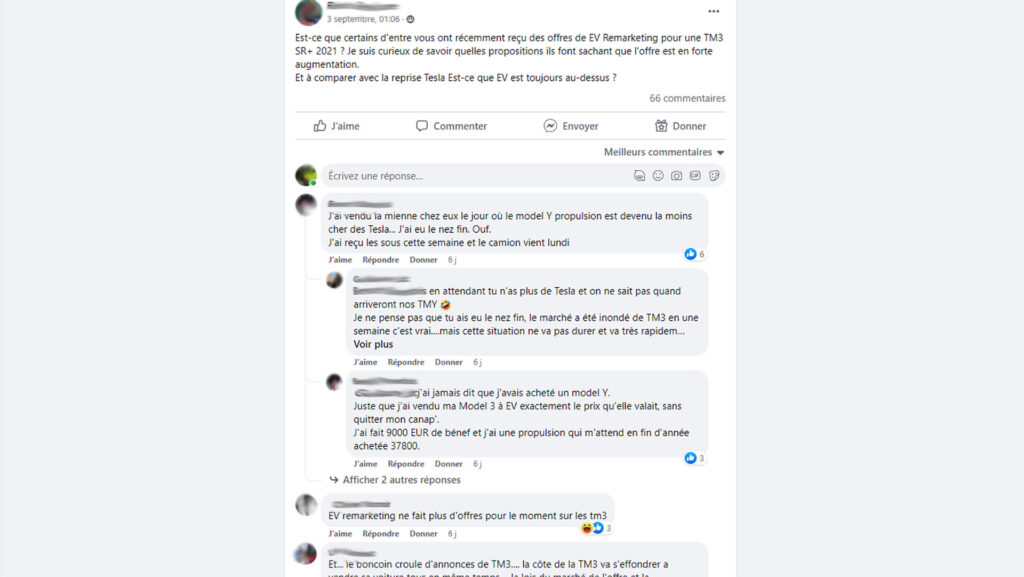 However, Model Y purchases are generally used to replace Model 3s. Many Model 3s are therefore likely to find themselves sold at the same time on the used market. Of course, when supply exceeds demand, the coast shrinks.
The second-hand value of the Model 3 Propulsion was over €43,000 the day before the Model Y was announced. A few days later, it dropped to less than €39,000, within companies specializing in Tesla deliveries to other markets. Again, there are many testimonials on private groups about Tesla. These companies have even suspended takeovers, while absorbing the influx of applications. Between now and the delivery of the first Propulsion Model Y, the recovery rate will continue to decline, unless there is another explosion from Elon Musk announcing the cessation of production of his cars, for example.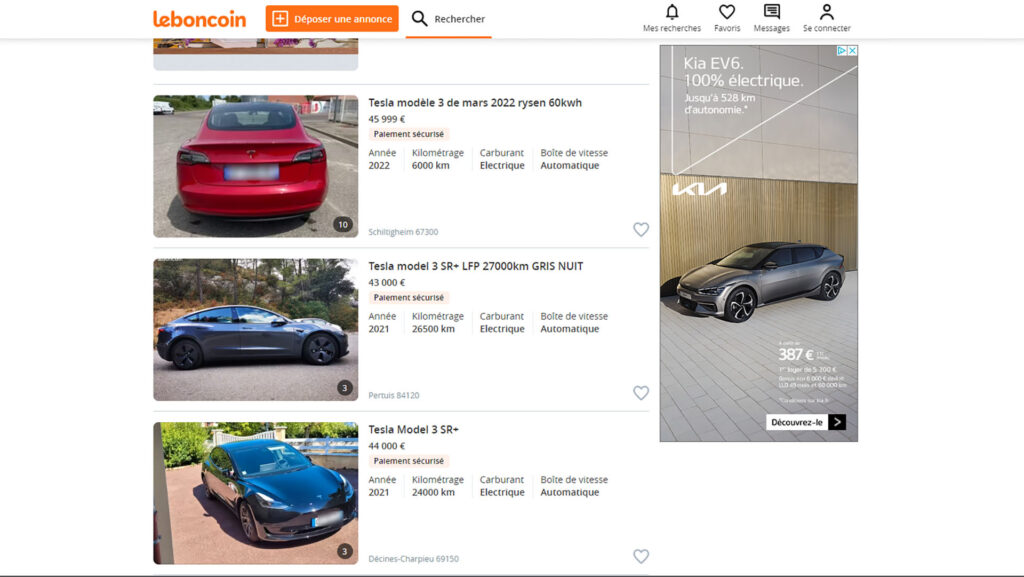 For dealers, the goal is to have a gap between selling their car and buying a Model Y. The reality of the market may be very different, especially since many remain convinced that demand is high. It should not appear in a few days number of ads on leboncoin exploded (over 1,000, as of September 9). Pages and pages of ads are only a few days old.
For €49,900, a new Tesla buyer is faced with an offer for a second-hand Tesla Model 3 Grande Autonomie with 55,000 kilometers on the odometer or a new Model Y.
Non-guaranteed trade-in offer at Tesla
It's a small feature that other Tesla customers are also discovering the hard way. Many wanted to take advantagetakeout offer recommended by an American manufacturer. It must be said that the trade volume estimation is quite good, compared to other estimation services.
However, this is a temporary trade-in offer, lasting 7 days. For Model Y ordered and delivered between December 2022 and February 2023, the estimate provided by Tesla today will no longer be valid when the vehicle is returned. Before delivering the new car, a new estimate will be made based on the second-hand market price on that date. Suffice it to say that some may be disappointed, if the market is still flooded with used Model 3s.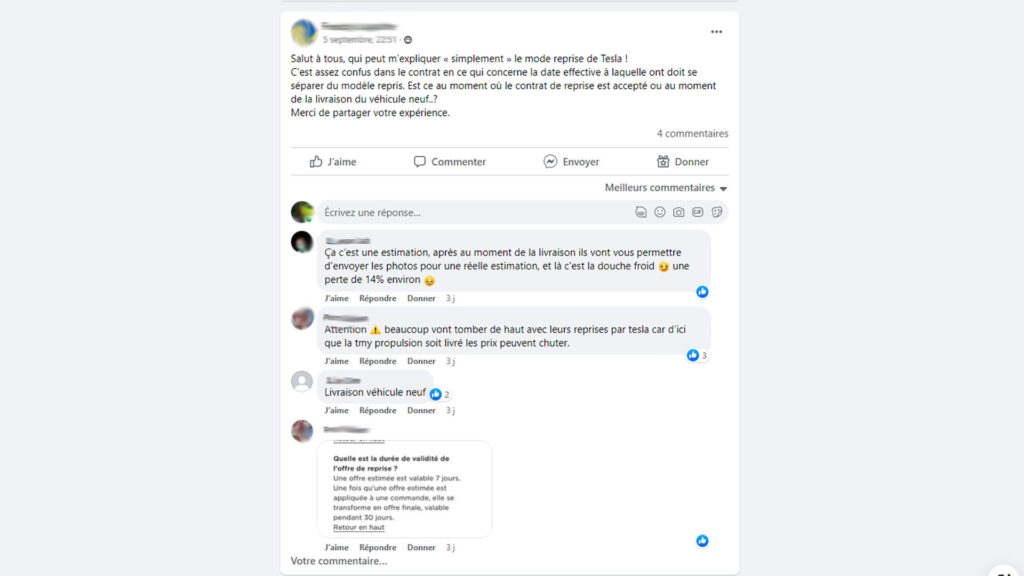 For every low price ad, it's the same survey
At the beginning of this article, we told you about the example of the first customers of the Model S. Some were trying to sell their Tesla for € 120,000, bought at a high price a few months earlier. But, it was enough for Elon Musk to announce on the same day a drop in prices for used models to be more expensive than new ones. Nothing has changed for several years. There are more models in the Tesla lineup and more risk of yo-yoing prices.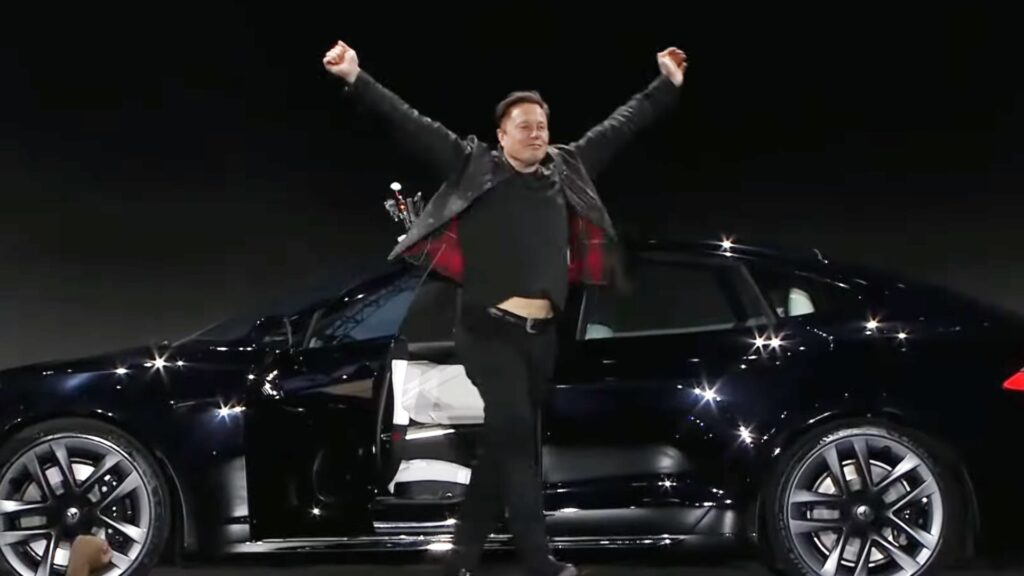 Up and down, Tesla's pricing policy is globally unpredictable. When the price drops, new buyers flock to the new model, but used sellers lose money. Conversely, when prices rise, second-hand sellers can make a good business.
These changes are common in the automotive industry. Apparently, only Tesla manages to keep the price of its used cars on the same vagaries as stock market quotes. It's better to know before you buy to make a guess.