A must have in the Nissan lineup since 2000, the X-Trail returns to the list. This 4th generation, available in France from September 6, 2022, will be offered exclusively with the e-Power engine.
The Nissan X-Trail has been available on the French network since September 6, 2022.
It's been a long time since Nissan got news of such products. Indeed, after the Juke Hybrid, Qasqhai e-Power and Ariya, here is the 4th generation X-Trail. Appeared in 2000, this model has already attracted almost 7 million customers worldwide. So its replacement is a real challenge for Nissan.
This 2022 X-Trail is based on the CMF-C platform, like the Qashqai, and will be offered exclusively in France with the e-Power engine. This system uses a 1.5 turbo block as a generator. It never drives the wheels. They are powered by a 150 kW (204 hp) electric motor. What almost gives permission to the model of electricity but with the freedom of the model of heat and without the need for recharging.
The 4WD version, called e-4orce, adds a 100 kW (136 hp) electric motor to the rear axle. The total power of the system then rises to 213 hp. So the X-Trail needs petrol and the manufacturer will announce a consumption of between 5.8 and 6.7 l, depending on the version, with CO2 emissions ranging from 132 to 152 g/km.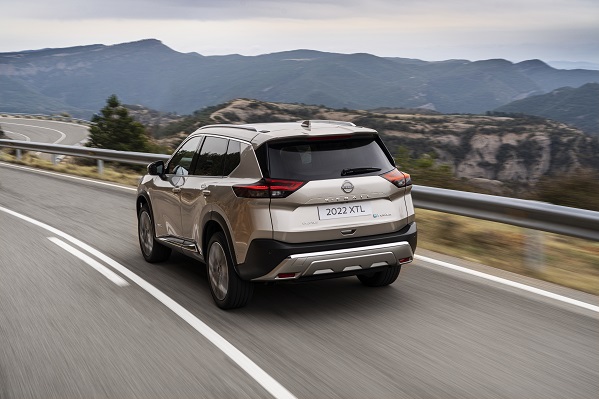 In size close to the previous one, it will be available in 5 and 7 places, enough to vary the trunk from 575 to 485 l depending on the configuration. An additional property to that which Nissan offers as "the only 7-seater family cruiser with an electric motor and all-wheel drive" of the segment. Of course, it can be debated, but Nissan is the only one using this unusual electric technology.
In terms of equipment, the X-Trail is packed, in particular, with a head-up display, ProPilot or two 12.3-inch screens. The range starts from 42,700 euros to a peak of 56,000 euros in its 4-wheel drive and 7-seat specification. Orders have been open since September 6, 2022 and the first deliveries are expected in October.