The queen of electric sedans, the Tesla Model 3 Grande Autonomie, will be subjected to our long-distance simulation exercise, to prove that Tesla's promises can be fulfilled. When recharging, total cost, everything goes. Let's go!
After presenting the Tesla Model 3 Propulsion case to you, it's the turn of its big sister, the Tesla Model 3 Grande Autonomie, to rub shoulders with the game for long summer and winter vacation trips. With a better promise than the entry-level sedan from Elon Musk's company, we'll look at the potential time and cost savings to cross France compared to other electric cars.
As usual, the rules are as follows: start is with 100% battery, finish with 20%, and the car must drive at the speed limit.. We will remember the characteristics of the car (autonomy, battery, charging power) and compare them with the real conditions on the ground. Therefore, with the help of future files about other cars, you will be able to define the one that will allow you to arrive safely at the lowest cost, and as quickly as possible. Without further ado, let's take a look at what a long drive in the Tesla Model 3 Long Series is like.
Characteristics of Tesla Model 3 Long Autonomy (2022)
The Tesla Model 3 Grande Autonomie is undoubtedly the most anticipated car of the moment when it comes to long journeys. Indeed, the Tesla sedan is an electric car that promises to be able to travel everywhere while reducing the obstacles associated with electric mobility, due to its autonomy and its ability to recover quickly.
A battery of about 80 kWh makes it possible to provide a range in the WLTP cycle of 626 km when fitted with 18-inch rims (602 km on 19-inch), but we will confront this promise with the reality of the terrain. road, which is less favorable for electric vehicles.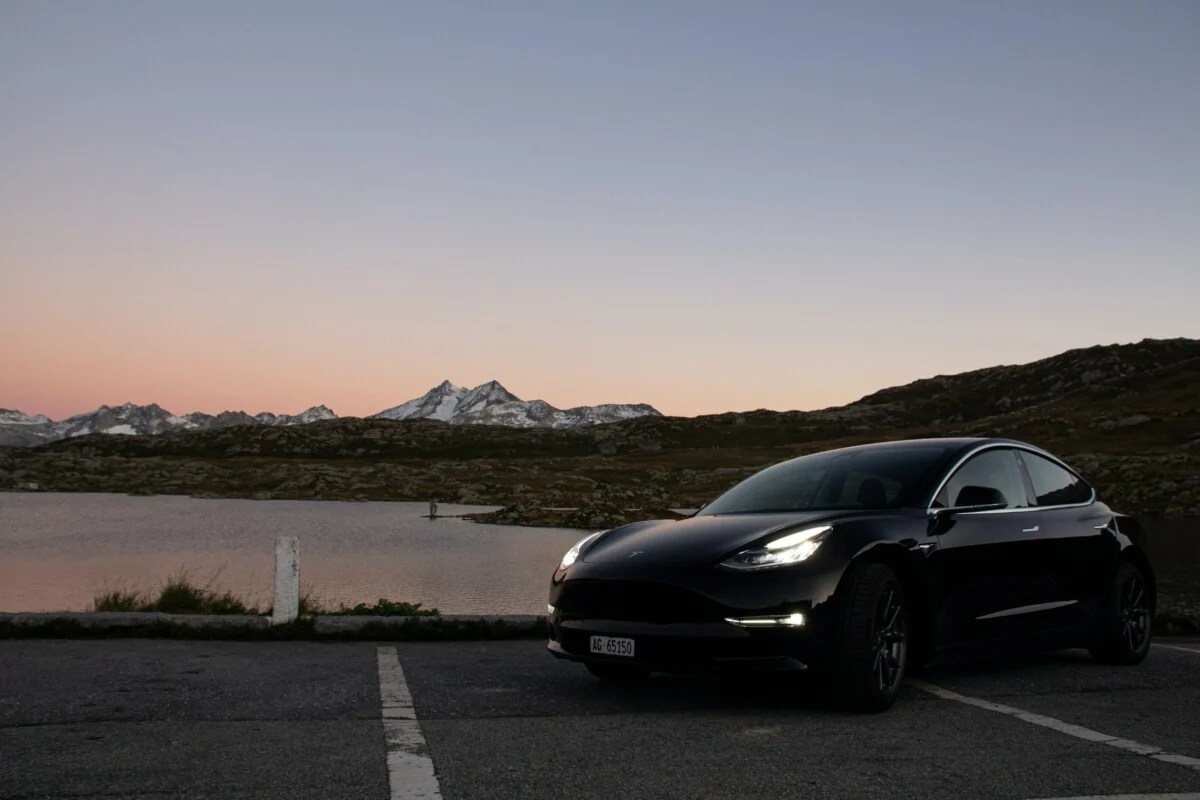 Regarding charge strength, it reaches 250 kW on the Tesla Superchargers networkallows you to recharge enough to travel 150 km in less than 10 minutes. So it will be possible to take advantage of the "small" filling during long journeys, to reach your destination faster.
In addition to Tesla's Supercharger network, the advantage of the Tesla Model 3 Long Range is that it can take advantage of third-party fast charging networks such as Ionity, Fastned, Totalenergy and others. So we won't be content with using a Tesla Supercharger but will accept during the simulated journey to recharge elsewhere.
As always, the Best Route Planner is used to plan the route, with references to the default use of the vehicle model being considered today.
Route planning
To put all cars on par, we start the trip with 100% battery., considering that you have to pay this filling at the average price per kWh in France, currently 0.17 euros. 80 kWh then represent €13.60: we take this cost into account when calculating each major trip.
The first main route simulates a summer holiday from Orléans to Arcachon (530 km), and the winter route starts in Caen and ends in Chamonix-Mont-Blanc (850 km).
For the summer route, the parameters shown in the Best Route Planner are as follows: 25 degrees outside temperature, no wind, arriving at the charging station with 10% battery left, and arriving at the destination with 20%. For a winter trip, it's basically the same, apart from the weather, where we chose a temperature of 0 degrees Celsius.
A balance sheet of different methods
Summer travel almost too easy
There are two possibilities to connect Orléans and Gironde, and in both cases one charge. Without leaving the road, the Ionity Poitou-Charentes station allows you to recharge in 25 minutes, enough to reach Arcachon with a 20% battery. At Ionity's current rate (0.69 euro per kWh), it takes 31 euros for this payment, which brings the total home payment to around 45 euros..
The second option is through Angoulême, where it is only necessary charge in 13 minutes at the Tesla Supercharger to go from 20 to 63% battery., enough to reach Arcachon with 20%. The cost of recharging will be less than 18 euros at Tesla's current rate of 0.52 euros per kWh. Thus, the total price of the trip will be 31 euros including home pay.
With a charge of 13 minutes for a total trip of 530 km, this great summer trip in the Tesla Model 3 Grande Autonomie can be considered "very easy", as the restrictions associated with electric mobility disappear.
Everyone can choose between an Ionity on the highway or a Tesla Supercharger off the highway when driving, but given the same time and cheaper fare, it seems more sensible to choose the Supercharger option. Consumption in this case will be 183 Wh/km, against 197 Wh/km if we stay on the highway.
Even in winter, no load exceeds 20 minutes
A period of the year that puts a load on electric vehicles, the winter holidays must be spent more in electronics than the summer ones. However, thanks to its heat pump and utility optimization that Tesla has a secret, the Tesla Model 3 Grande Autonomie makes short work of the 850 km that separates Normandy from Haute-Savoie.
Four charges are required to complete this journey, but no need to exceed 20 minutes. So, unless you want to eat during the eight and a half hour journey, you'll probably need more breaks than your car. It only takes 1h02 of recharging and 7h24 of road to reach 850 km of our reference route.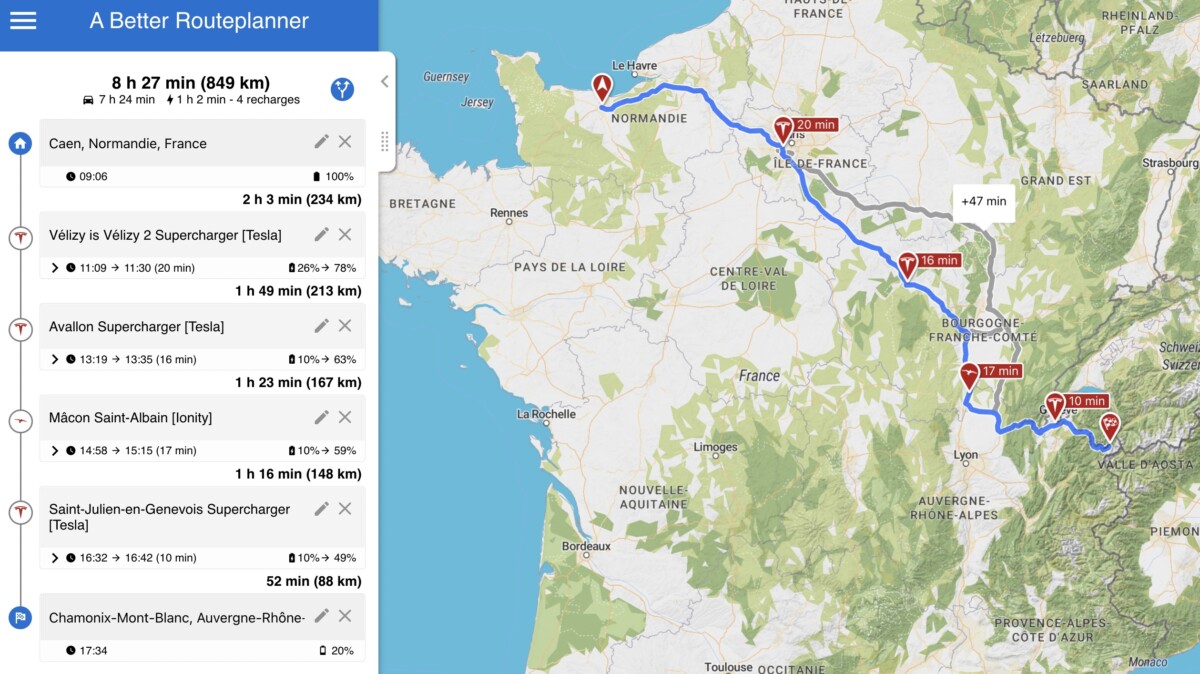 The first important recharge is done after more than two hours of travel, at the Vélizy Supercharger, in 20 minutes (42 kWh, 21.80 euros), and the second is at Avallon (42 kWh, 21.80 euros ), still on the Tesla network.
The Ionity station in Mâcon Saint-Albain is then preferable to the Mâcon Supercharger (a slow, and necessary detour), where a 17-minute charge is required (40 kWh, 27.60 euros) to reach the last Supercharger of the journey, in Saint-Julien- en-Genevois in just 10 minutes (32 kWh, 16.50 euros).
In general, we would recharge 156 kWh, at a price of 87.70 euros starting at 100% and reaching 20% ​​on repeat. Including the departure fee, the cost rises to 101.3 euros for the 850 km of our winter journey. Forecast consumption, meanwhile, is 244 Wh / km, an excess consumption of almost 30% compared to the summer route.
Usage, recharge cost and range
We provide an overview of the costs and charging times (including home charging of 13.60 euros) in the table below: you can watch as we go through our examples where the car you are interested in is available compared to others on the same journey.
| Car | The cost of planting summer | Time to pay for the summer trip | Total summer travel time |
| --- | --- | --- | --- |
| Tesla Model 3 Drive | 36 – 49 € | 31 minutes | 5 h 09 min |
| Tesla Model 3 Long Autonomy | 31 – 45 € | 13 – 25 minutes | 4 hours 56 minutes |
| Kia EV6 58kWh | 52 – 60 € | 38-43 minutes | 5 hours 30 minutes |
| BMW i4 | 48 – 58 € | 22-37 minutes | 5 hours 11 minutes |
| Hyundai Ioniq 5 | 72 € | 36 minutes | 5 hours 16 minutes |
| Car | The cost of winter travel | During the payment of the winter trip | Total winter travel time |
| --- | --- | --- | --- |
| Tesla Model 3 Drive | 102 € | 1 hour 42 minutes | 9:16 am |
| Tesla Model 3 Long Autonomy | 101.3 € | 1 hour 02 minutes | 8:27 am |
| Kia EV6 58kWh | 120 € | 1 hour 54 minutes | 9 h 59 min |
| BMW i4 | 147 € | 1 hour 32 minutes | 9 h 08 min |
| Hyundai Ioniq 5 | 145 € | 1 hour 29 minutes | 9:14 am |
Conclusion
Tesla Model 3 Long Autonomy must be placed at the top of the table of electric vehicles allowing you to get from point A to B in a short time. Indeed, with just 13 charging minutes to cover more than 500 kilometers of our summer route, and just one hour of charging to cover 850 kilometers in winter, it's hard to beat.
The cost per 100 kilometers for these long journeys varies between 6.10 and 11.90 euros, which could make it more economical to use on long trips than its little sister Tesla Model 3 Propulsion. In fact, with a large battery, it fully benefits from a 100% charge at home before departure, and does not necessarily require a quick charge like the Propulsion model. The total cost of the trip has been reduced slightly.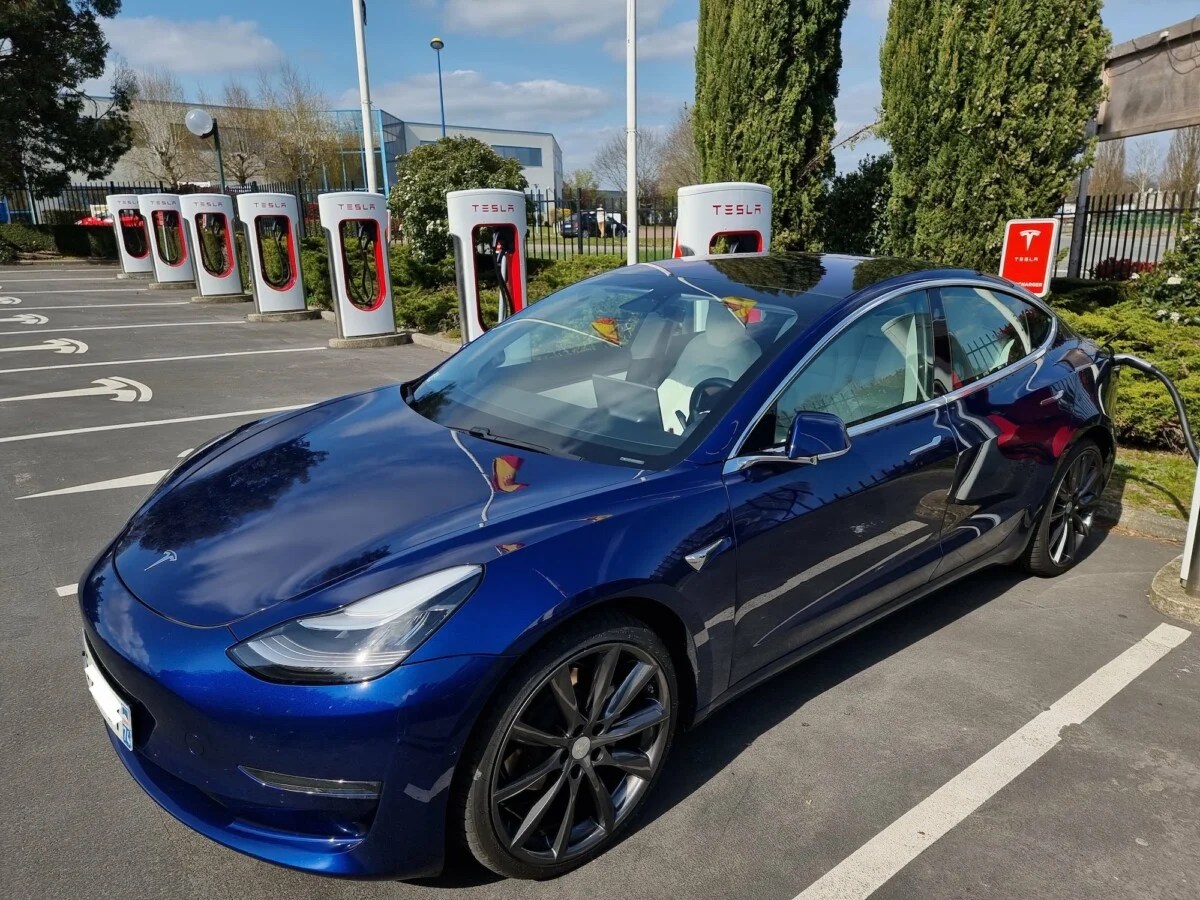 In addition, it saves forty minutes of charging on a journey of 850 km during the winter season, or in other words, The Tesla Model 3 Propulsion requires 65% more charging than the Tesla Model 3 Grande Autonomie in our Caen-Chamonix..
The question that everyone should answer is whether this significant time saving is worth the price difference between the two models, which is currently 11,000 euros. Depending on your profile and your needs, the answer is not trivial. And with the ever-increasing price of the Tesla Model 3 Propulsion, the version with a larger battery is becoming more and more attractive.
But Teslas may not be the queens of this exercise, as we saw in our list of the fastest charging cars. So we will soon examine a car from another manufacturer that will offer in our long-distance simulation: the Kia EV6. Until then, the Tesla Model 3 Grande Autonomie will be able to boast of being the fastest…
---
To follow us, we invite you download our app for Android and iOS. You can read articles, files and watch our new YouTube videos.