Juliano Laham has no doubt that there is something divine behind Joseph's role in Genesis. Like the Hebrew, the actor also saw his life turned upside down, and without further explanation, immediately. Now, at the age of 28, he says the cycles have not only strengthened him but also given him a better understanding of the popular saying — that God writes directly in crooked lines.
"He knows what he takes and puts in our lives, we may not even understand why, but everything is on purpose. God showed me to be a Popular Dance to save my life and not for personal fulfillment. It also changed the actors so that I could get this opportunity. It may even I don't know, but God knows what he is doing", reveals the heartbreak in a special interview with TV news.
Laham went through a journey reminiscent of José himself when, in 2020, he left Domingão do Faustão (1989-2021) to take care of his health. He discovered a pheochromocytoma, a benign tumor of the adrenal glands, which brought him to the operating table.
The interpreter also felt butterflies in his stomach when he ended the collaboration with Globo, which had been coming since 2016, to make the first biblical opera on Record. He did not even think that Arthur Aguiar, who was then scheduled to play the main character of the seventh installment, would leave the production due to artistic differences.
"At the end of the day, things don't turn out the way we want, but that's how it should be. There's no need to be angry or upset, because everything has a reason. And sometimes, we only understand with the maturity that comes with time", reflects the artist.
Laham shaved his hair for the role
TV News – Many actors have commented that the large charge of Genesis is so intense that they feel the effects on the body. Did you experience this too?
Juliano Laham – I started the telenovela a little bloated because of the surgery, so I lost about ten kilos before I started filming. And it is impossible to maintain a controlled life with "pauleira" which is a record, it is common even to slip. In the heat of the moment, and due to the abundance of events, I ended up losing about four more.
José is a character who has this emotional state, but the actor's body does not know if this feeling is real or not. Therefore, we should take care of ourselves, preserve ourselves and take a deep breath so that the body is not harmed.
And do you have any traditions to leave that weight inside the scene?
I seek to meditate, ask for guidance and talk to God as much as I can. We give ourselves so much that it becomes almost a spiritual work, because we can't help but get involved. Many times, I would go to the dressing room, take a breath and splash water on my face to be Juliano again. And I was always surrounded by joy, because José's life had very sad moments.
You talked about talking to God. Did you feel his presence on stage?
I had three incidents where I couldn't remember how I did it. It looked as if it was Joseph himself there. I myself did not realize that I was Juliano when I saw them. Several times, I was also overwhelmed with feelings that were completely real, as if I was living, not playing a role.
And what were those events?
One of them has already announced, Joseph being sold by his brothers as a slave. Another is when he is arrested and told that Israel (Petrônio Gontijo) is dead. It's like his world ends there, so he talks to God and cries. The last one, towards the end of the novel, is when he meets his father again.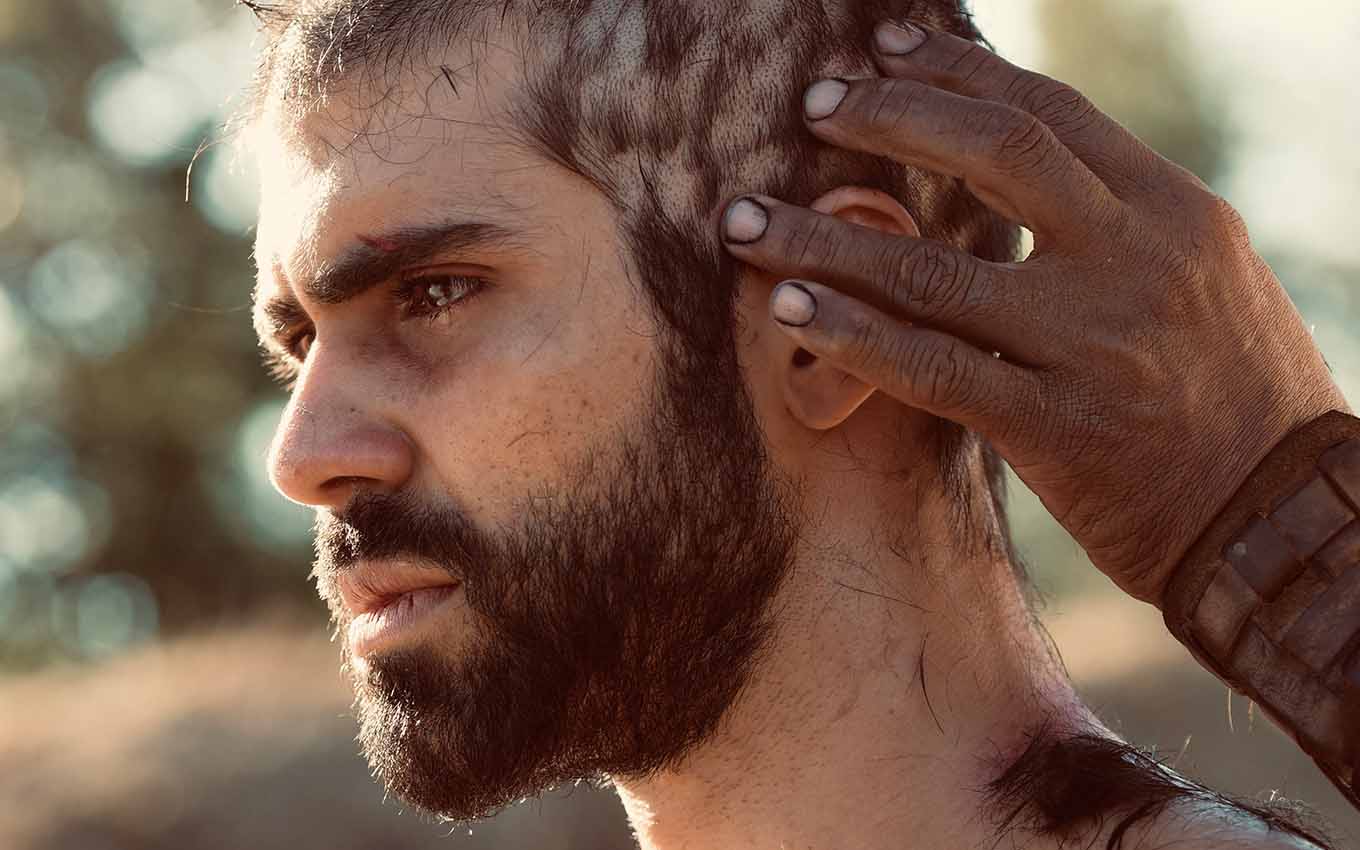 José has a shaved head on stage
The story of his life is very similar to Joseph's bow. Do you think the ups and downs you went through, like the surgery, prepared you for the role?
Wow, a lot, especially in my relationship with God, because I knew that, at that time, only he could save me and no one else. Only God could touch the hand of doctors to make everything perfect. Today, I am more mature, I understand that it is in these times, which we would not like to live, that make us understand a better life.
When did you realize you were going to be José?
On December 31st, I had lunch with my best friend and got a call with the invitation. I stopped eating immediately, because my mouth was open in disbelief. I agreed without thinking twice, without knowing anything. I just said, "I'm in."
Did you actually shave your hair on the scene or is there an editing trick?
Yes, we did. It was in the valley, and we remember. I am not only interested in him, but in several people, like the one where José is thrown into the well by his brothers. It is one of my favorite scenes, along with when he is sold into slavery. I am very happy with the results.
And there was no fear when leaving Globo and going to Recording?
The butterflies in my stomach were not from the change of channel, but from the role of being the main character. In the past, you heard a lot about it, about switching channels, but these days there are so many possibilities. An actor can run a little more, make a soap opera, take a streaming position, meet a new company.
Did any of Joseph's dreams occur to you in the middle of the night?
Many of them, but no one warned me about something that would happen in my personal life (laughs). I dreamed of José myself. I would wake up and think I was on stage, not in my room. When you're doing a soap opera, it's inevitable to sleep and wake up thinking about work. It's even normal.
In the Beginning, his role is completely different from the same-sex love he lived in Pride and Passion (2018) or his boxing matches in Malhação: Pro Dia Nascer Feliz (2016). Is the same audience that saw him in secular plots also watching him in the Bible series?
In general, they are not different audiences, despite being different stories. We humans are not just one thing, but many. We have a dream in us like Rômulo [de Malhação]he also lives issues in love like Luchino [de Orgulho e Paixão]whether with another man or woman, and a faithful relationship like Joseph.
We cannot label the public. I realize that fans generally see everything or almost everything we do. One may not like a biblical soap opera, but it starts to look at me and open up to me different possibilities. My intention is not to share, but to bring everyone into my world and be able to touch lives through each story.
Watch Juliano Laham's video interview: