Zapping Autonews Hyundai Ioniq 6 (2022): new electric sedan on video
In the United States, ice cream is celebrated every year on the third Sunday of July, during National Ice Cream Day. To celebrate the year 2022, the North American division of Porsche had the idea of ​​collaborating with the ice cream parlor Pretty Cool Ice Cream, located in Chicago (Illinois). business produced glasses stamped Porsche.
Inspired by the colors of the Paint to Sample program, these Porsche windows adopt names that match the body colors. They are called Mint Green, Strawberry Red, Frozen Berry Metallic, Macadamia Metallic or Lime Gold Metallic.
Also read – Covered in coral, this Porsche 911 seems to have been underwater for eternity
For every ice cream, its iconic Porsche model
Each bag containing Porsche ice cream is presented with a picture of the brand model.Image credit – Porsche
Offered in the form of sticks, Porsche ice cream is promoted through an ad showing a multi-colored 911 driving through the streets of Chicago. The front trunk opens, revealing to passers-by a cache of dozens of these ice creams. The packaging of each ice cream has different Porsche models, such as the Taycan, 718 Boxster, 911 or even the legendary 356.
An ice cream maker who loves Porsches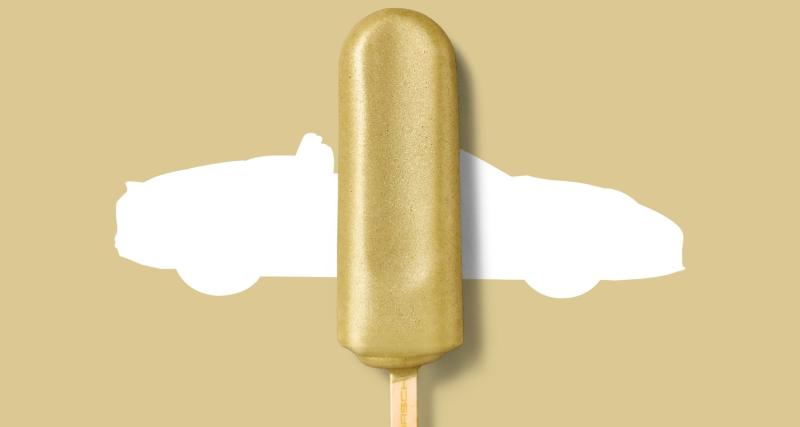 Each Porsche glass color uses the body color provided by the manufacturer.Image credit – Porsche
The idea has something to smile about, but the project has symbolic significance for Dana Salls Cree, owner of Pretty Cool Ice Cream. "My uncle has always had a passion for restoring Porsches," he confides. "He's restored over 200 cars over the last fifty years, and I've grown very close to them." So now we have come full circle.
---
Released in regular edition, Porsche ice cream was only available in Chicago on Sunday, July 17, 2022.
In short
After the cars, Porsche starts serving ice cream. The Stuttgart company has teamed up with a Chicago ice cream shop to produce limited-edition glasses, whose colors reflect certain body colors.