Mikael Azcona won Race 2 on a modified grid after Norbert Michelisz and Attila Tassi, who shared the front row, hit before the first corner at Circuit de Pau-Ville.
Azcona, in his BRC squad Hyundai N Squadra Corse Goodyear, Hyundai Elantra N TCR, finished ahead of Lynk & Co of Santiago Urrutia and Ma Qing Hua after WTCR reigning champion Yann Ehrlacher was forced to return to action due to a flat tire. when he was third.
WTCR, Pau: Azcona wins in Race 2
Tassi got a better start from the front row, but fellow Hungarian Michelisz dodged right from the post position and the two cars collided. Tassi Honda hit a pit wall and Michelisz's Hyundai went sideways in the middle of the track, causing a chain reaction.
Gilles Magnus hit behind Yvan Muller's Lynk & Co with his Audi, another Mehdi Bennani Audi saw his suspension break in another collision further below the peloton. A version of the Honda Civic Type R Limited that acts as a safety vehicle entered the track.
"My start was moderate," Michelisz said. "I tried to turn 1 turn and we got in touch. Unfortunately. Sorry. It's not a good way to start the season. I'd love to see a picture from outside, but it was very unfortunate."
The race started again with 23 minutes (with a thigh) ending, with Urrutia putting pressure on Azcona. But the Spaniard straightened up and began to widen the gap, winning by a lead of 3.876s after 21 rounds.
"It's my first race weekend with Hyundai and BRC, so I'm very happy," Azcona said. "I want to congratulate every member of the team. They did a great job all weekend, working very hard. I am here thanks to them. Now we have to move on."

"It's a good start," Urrutia said. "We showed our momentum in free practice, but in qualifying we didn't do much work, I knew from the top ten I had to finish with points in this difficult round where anything could happen, I was a little lucky. take in and not out at the beginning, with this great accident in front of me.
Ehrlacher appeared to be ready to accompany Urrutia on stage before returning to the pitch with a flat tire 12 minutes from the end, giving Ma access for his first weekend with Cyan Performance Lynk & Co.
Back in the top three, Nathanël Berthon set the record straight after being disappointed in Race 1, rising from seventh on the grid to fourth in his Comtoyou DHL Audi Sport RS 3 LMS, with Esteban Guerrieri adding a chance. fifth for the second he had won. earlier in the day. Muller finished sixth despite contacting Magnus.
1st Race winner Néstor Girolami took seventh place at ALL-INKL.COM Münnich Motorsport, ahead of Rob Huff, eighth and first in the WTCR Tournament after starting 13th in his Zengő Motorsport Cupra Leon Competition. Thed Björk (Cyan Performance Lynk & Co) and Tiago Monteiro (LIQUI MOLY Team Engstler Honda) completed the top 10.
Dániel Nagy finished 11th in his Cupra, ahead of Tom Coronel's Audi and guest rider Éric Cayrolle. Ehrlacher finished in 15th place and got at least points after the race he was heard saying on the radio to his team: "I want to cry."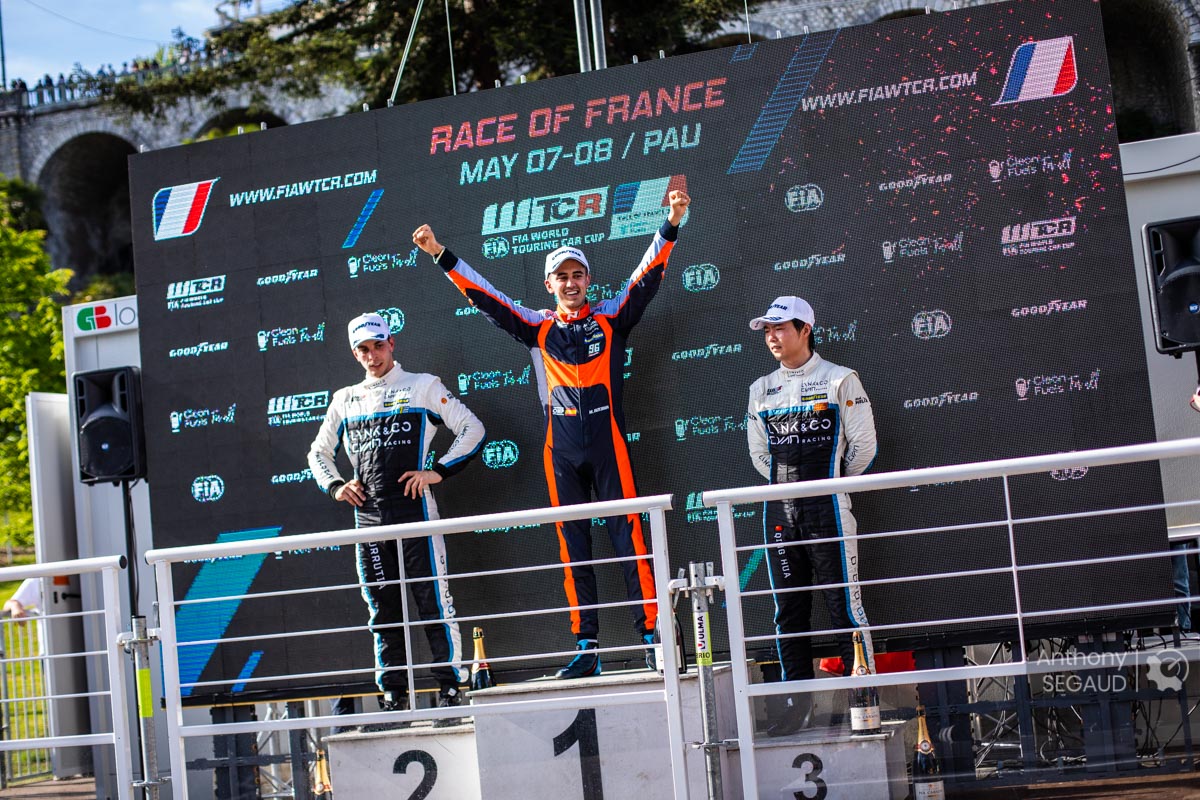 Girolami remains Goodyear #FollowTheLeader with 49 points and seven points ahead of Guerrieri, himself one point ahead of Azcona.