Scheduled to arrive in Brazil in the first half of this year, the New Range Rover bet on a new philosophy of modern luxury, combining improvements improved over 50 years with new, more sustainable and innovative raw materials, as well as new high-quality textile materials that blend. high fabrics and cotton blend square. This new SUV model from the brand will also bring the option and interior without leather in the highest specification levels, a strategy chosen and appreciated by customers worldwide.
These alternative materials can be found in various parts of the car's interior, combining soft cotton with the company's technology, with the aim of creating greater comfort inside the model. According to the brand, the pioneering relationship with Kvadrat, the leading European manufacturer of premium and ecological textiles, which will continue to supply automotive accessories, was also strengthened.
"The New Range Rover balances tradition and evolution. All the materials in it were chosen with a modern and contemporary mind, continuing our personality strategy of creating more sustainable options that serve as a substitute for leather. In this way, we help to define the tastes of time ours, not just in the automotive world, but beyond," says Amy Frascella, Director of Colors and Materials at Jaguar Land Rover.
A selection of innovative materials is also available on the new Range Rover floor mats. They are made from ECONYL® yarn, produced from recycled industrial plastic, textile waste and plastic reclaimed from the ocean. This sustainably sourced material contains 40% recycled content and embodies the concept of modern luxury while maintaining the brand's commitment to the environment and its conservation.
In the exterior customization, the New Range Rover comes with a new color scheme, influenced by modern, refined and modern architecture. The new range of stylish exterior color options is made up of 12 bold shades, as well as premium metal and metallic options, among the new features are Lantau Bronze, Belgravia Green, Batumi Gold and Charente Crey. Inside, colors are used wisely to create a peaceful atmosphere, with attention to detail, which this combination of materials becomes more. The abundance of natural light thanks to the broad sun or even the choice of different fibers from the Kvadrat TM cotton blend, the different colored fabrics create a nuance that adds dimension and strength to the look from the superposition of different shades on the fabric.
"The color and material strategy for the New Range Rover reflects changing customer tastes and Land Rover's awareness of environmental impact. It represents the highest level of Land Rover's work from the innovation of materials, processes and technology, which guarantees customers the possibility of enjoying ethical beauty, from new ways to create harmonious interiors, to express true modern luxury." explains Paulo Manzano, marketing director. in a Land Rover.
See also
Mourn
Nichelle Nichols, Lieutenant Uhura from 'Star Trek', dies aged 89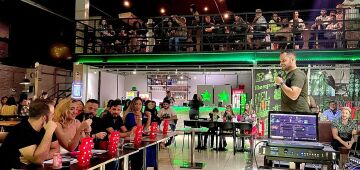 Song
Music reality 'Cantor X' opens registration for season 3 in Recife, Maceió and João Pessoa