The new Porsche 911 GT3 RS has already been caught in a routine development test at the Nürburgring and undisguised.
The most aggressive and sporty version of the sports car from the Stuttgart brand has already revealed itself without hiding anything in terms of bumpers and hood, which comes with the famous air ducts.
At the back, along with a large air diffuser and a sharper overall design, a new exhaust system with downward-pointing tips and, of course, a large number of rear wings are clearly visible.
TO NOT LOSE: It is with this 963 that Porsche wants to win Le Mans again
Also good are the many aerodynamic attachments on the sides, either at the level of the skirt or the wheel arches, which are complemented by forged rims and a central grip.
And speaking of rims, it is also important to say that this 911 GT3 RS will be equipped with a set of carbon-ceramic brakes, for better performance.
And inside?
In these spy photos it is still not possible to "see" the interior of this new Porsche 911 GT3 RS, but it is safe to say that the rear seats will be "removed" to make room for the safety cage.
ALSO READ: Electric Porsche Macan shows interior for the first time
Other comfort-oriented equipment will also disappear, to help reduce as much as possible the amount that this GT3 RS "accuses" to the level.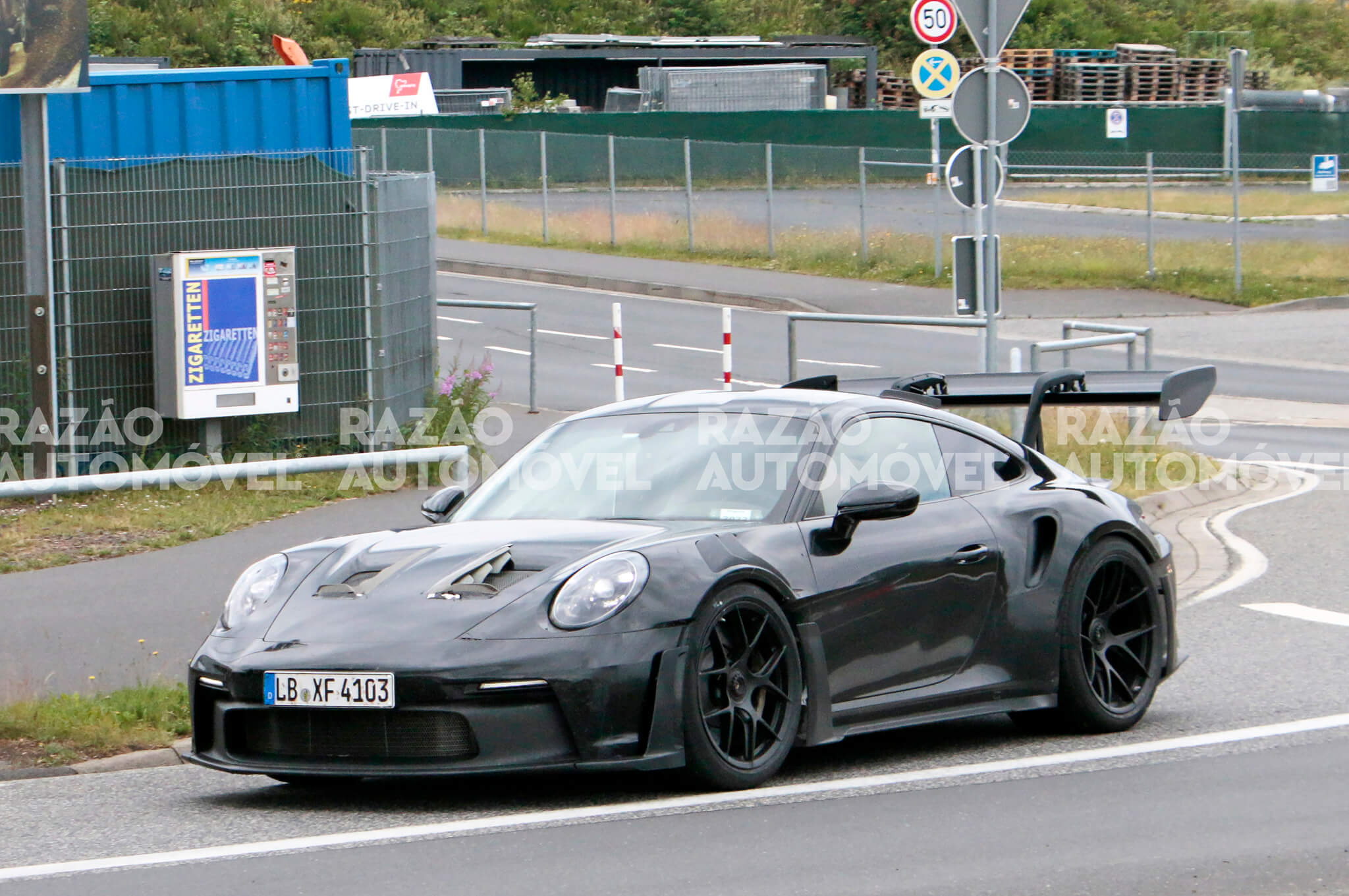 And the engine?
As for the engine, it will be a six-cylinder boxer with a capacity of 4.0 liters that should produce at least 550 hp, which will be sent exclusively to the rear two through a seven-speed PDK automatic gearbox.
But even though the new Porsche 911 GT3 RS does not arrive, there is nothing better than to bring back our test (on video) of the 911 Turbo S, the first car in the history of Cars Reason to reach the top score: 10/10. See why:
(function(d, s, id){ var js, fjs = d.getElementsByTagName(s)[0]; if (d.getElementById(id)) {return;} js = d.createElement(s); js.id = id; js.src = "https://connect.facebook.net/pt_PT/sdk.js#xfbml=1&appId=1335868113133939&version=v2.9"; fjs.parentNode.insertBefore(js, fjs); }(document, 'script', 'facebook-jssdk'));