Maserati, the iconic Italian brand that has given us impressive cars over the years, is now making an SUV. It all started with the Levante model and over time, as elsewhere, the latter has established itself and now represents the majority of the company's sales (around 60%).
So it was necessary to see it ahead, the second SUV was to follow. Announced for a while already, it has finally been revealed by the brand. This is what awaits us with the new Grecale 2023.
With a length of 190.8 inches and a wheelbase of 114.2 inches, the Grecale aims to be slightly larger than the Alfa Romeo Stelvio and Porsche Macan it faces, but overall it has similar proportions. In terms of style, it will not go unnoticed, its muzzle being very attractive. For fans of the brand, note that the shape of its grille and its lights, oriented vertically, refer to the MC20's mid-engine sedan. This is Maserati's newest entry and represents a break from what can be seen on the Levante, Ghibli and Quattroporte models.
Check out cars for sale near you
Grecale will be rejected in different ways. Initially, three petrol models will see the light of day before seeing the Folgore electric variant appear, scheduled for next year. The base GT version will be powered by a 2.0-liter 4-cylinder engine and a 48-volt hybrid system. In total, riders will have 296 horsepower and torque will be 332 lb-ft. The production Modena version will benefit from a more powerful variant of this system with 325 horsepower.
As for the production Trofeo, it will enjoy a variant of the MC20's 3-liter twin-turbo V6. This time, we're talking about 523 horsepower and 457 lb-ft of torque (it's 621 horsepower and 538 lb-ft with the MC20).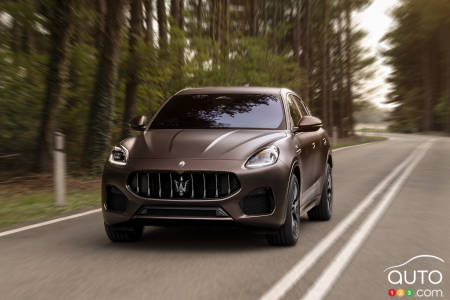 Maserati Grecale GT, front
In terms of performance, it is promising for all addresses. Indeed, Maserati reports a 0-100 km/h time of less than 5 seconds for the 4-cylinder engine models, while the Trofeo version directly attacks the Porsche Macan GTS, BMW X3 M, Alfa Romeo Quadrifoglio, and other such beasts. . a time of 3.6 seconds for the popular reference.
An eight-speed automatic transmission is standard with all Grecales, as is all-wheel drive. Air suspension and dampers will be optional on 4-cylinder models and come standard on the V6-powered variant.
On board, we are treated to a future (or current, depending on the model being compared) environment with four screens. Of course, different finishes, each as good as the other, will be possible with variations, all ending with carbon fiber accents, premium leathers and lots of woodwork on board the more limited editions.
Maserati's Grecale is expected around summer. We'll know more about the Canadian offerings at that time, including pricing.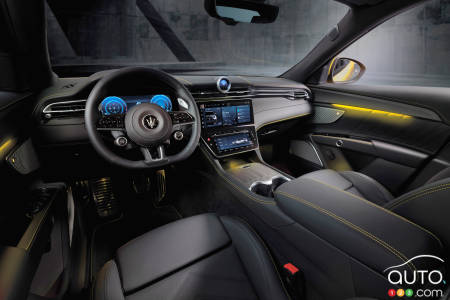 Maserati Grecale Trofeo, interior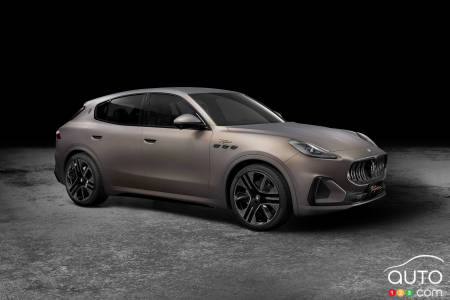 Images of the 2023 Maserati Grecale