Lexus is making some changes to its 2023 UX and we can already guess that it will be very popular. Why? Because they provide significant updates, while removing some of the anger that was unique to this model.
Aesthetically, note that there are no changes, other than more F Sport packages will be offered across the range. However, these come with a slightly different style, so overall, we will get a more diverse UX 2023.
In fact, these models come with F Sport wheels, grille, dark roof rails, black roof, sunroof, rain-sensing wipers, fog lights, independent lights, as well as colored wheel moldings.
Check out cars for sale near you
2023 Lexus UX, rear three quarters
With the F Sport model, you also benefit from adaptive suspension, as well as performance shock absorbers developed by Yamaha. Everything of course plays on model handling and since UX model is not a beast to track in the beginning, it can only help. Sports seats, a different steering wheel, aluminum pedals and a uniquely styled gear selector also mark the uniqueness of this variant. An aluminum footpeg is added to the 2023 F Sport package.
Then, under the dress, other modifications, including the addition of 20 strategically placed welding points to enhance the rigidity of the structure.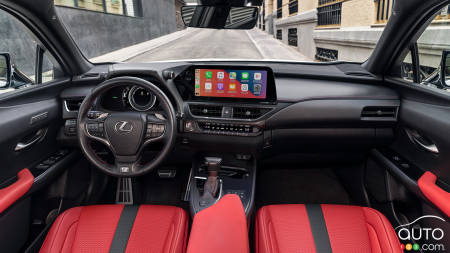 On board, a new multimedia system with an 8.0-inch or 12.3-inch touchscreen is available. Apart from the generous surface of the screen, it also benefits from a sharp display and can be updated over the air.
The update of the multimedia system brings other minor modifications. As a result, two additional USB ports are available while the heated seat buttons have been moved from the bottom of the dashboard to the right of the gear selector. Then, icing on the cake, touchpad cruelty Lexus is now history. Everyone who has had to use it will breathe a sigh of relief. Finally, a wireless cell phone charging plate is most welcome. Lexus has also added LED ambient lighting for an extra touch of clarity and luxury on board.
Other improvements are also on the menu, but we will have the opportunity to return to them during the next test. We're certainly looking forward to seeing how the design tweaks will affect the car's performance on the road.
The UX SUV continues to be offered as a hybrid only in Canada. Prices for the 2023 versions will be announced later, when the model will be available in late summer.