One of Carens' historical assets is a place on board and this new generation has a lot to offer. Thanks to its generous dimensions, 4.54 meters long, 1.80 meters wide and 1.70 meters high, the car breaks the record for height and length in sections.
The new KIACarens is in its 4th generation. On paper, everything indicates that it is another small car but in reality, the new car was as unique as its features derived from the words 'car' and 'renaissance'. The new generation aims to be a truly successful combination of minivan and SUV. What makes KIA Carens even more interesting than it has been since its existence nearly 20 years ago.
A brand new SUV model
By signing his major arrival, Carens is reuniting with its Moroccan public, having sold about 5,000 copies since its launch on national land. The well-known and highly regarded Carens in Morocco, now has the profile of an SUV, modern design and offers comfort and modern car technology despite its resemblance to the Soul. With its muscular air thanks to its wide lines that start from the fenders to disappear from the doors, its modern LED headlights and their "Y" signature along with the current KIA grille, Carens sets its style quickly. . The back end confirms this letter: it consists of integrated geometric LED lights that extend to the shutters, a large breaker and a double exhaust pipe.
The interior offers 6 real seats in complete comfort
One of Carens' historical assets is a place on board and this new generation has a lot to offer. Thanks to its generous dimensions, 4.54 meters long, 1.80 meters wide and 1.70 meters high, the car breaks the record in height and height in sections and makes it possible to deliver three rows of seats by connecting to the board 6 real seats! Both the 2nd and 3rd rows of seats reflect the sheer generosity of the space and their versatility: the seats are fully folded using a simple, sliding and easily accessible button due to their "captain" layout. meat "in the middle row. Inside, the Carens passenger room is distinguished by a dashboard with a clean and polished design thanks to the" Black Piano "coating, but also to the quality of the materials used.
The most efficient Smart Stream diesel engine
With a modern 1.5-liter MPi Smartstream diesel engine producing 115 horsepower, Carens plays an effective card. Indeed, Smartstream is a brand new strategy to improve fuel efficiency and reduce emissions from its internal combustion engines, while improving engine components. It allows the new model to provide better energy efficiency, lower consumption and higher performance than previous generations. This engine blocker is provided with two transmissions, available for all versions: a 6-speed gearbox or a new 6-speed gearbox.
Lots of potential
With its bold SUV style because of its 19.5 cm clearance, its roof bars, bumpers and sill-lined chrome, this new generation of Carens does not deny its heritage of the minivan. : passengers, well-placed in their seats, are plentiful. of comfort services on board: folding air table behind seats, back air conditioning with separate control module, individual seats and reclining seats at maximum amplitude. In addition, all 6 real seats can accommodate tall adults, while maintaining comfortable bedrooms.
With a completely redesign, through a completely new design of SUVs and more widely used interiors, this new generation of Carens is improving on the power and benefits of a car that already exists in previous generations.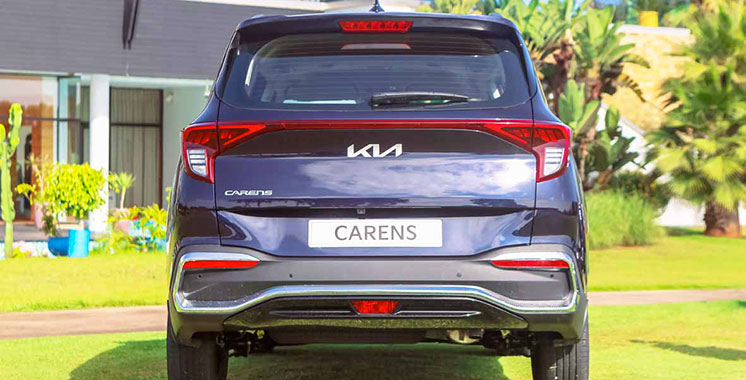 Many types of equipment in Morocco
The new KIA Carens are available in 3 levels of reduction: Motion, Active and Executive.
Motion finish offers plenty of features for the first level: 6 airbags, ESP, solvent alarm, fog lights, trip controls and speed controller, half leather upholstery, air conditioner, 100% digital dashboard on board, 8 . " A multimedia touchscreen compatible with Android Auto and Apple Carplay with rear camera as well as Bluetooth audio recognition.
Active finish also has a flat leather steering wheel with "Carens" badge, LED daytime running lights, LED rear lights, 16's diamond cut aluminum rims, chrome radiator grille, steering wheel and leather gear and roof of aluminum. finished with a pleasing shape.
The Executive Update further upgrades the equipment by providing full LED lighting, hands-free access and key switch, leather upholstery and front seats for air and heat, automatic air conditioning, front parking support, driveway layout or even a solar roof. , wireless charger and rain sensor.
Carens is available from 259,900.00 DH at the end of Motion (introductory price).