Vehicle owners are surveyed annually in the United States by JD Power, an independent organization, to assess the severity of problems presented after three years of use.
"Owners are keeping their vehicles for longer, so long-term reliability is becoming increasingly important," said David Amodeo, director of JD Power.
Watch the video and learn which brands are most trusted (and least)!
SEE ALSO:
"Some brands are doing better at preventing problems that include not only mechanical components, exterior and interior trim, but also infotainment systems, steering assistance and other electronics."
The survey released this Thursday, the 10th, therefore covers vehicles manufactured in 2019 and includes 184 specific problems in nine automotive sectors: climate control, driving assistance, driving experience, exterior and interior finishes, equipment , controls, displays. , infotainment, mechanics. and chairs.
Specifically considering each model, the most reliable was the Porsche 911, for the third time in the last four years.
The Best (and Worst) Automakers.
The index is based on the number of problems per 100 units. Kia had only 145, followed by Buick with 147, Hyundai (148), Genesis (Hyundai's luxury division) fourth with 155 and Toyota fifth with 158.
'Premium' marks on the lights
Among the "torch" British Land Rover wins the worst podium with 284 problems, followed by Ram with 266. Alfa Romeo (245) "lost" this year the third place among the worst to Volvo, with 256 problems.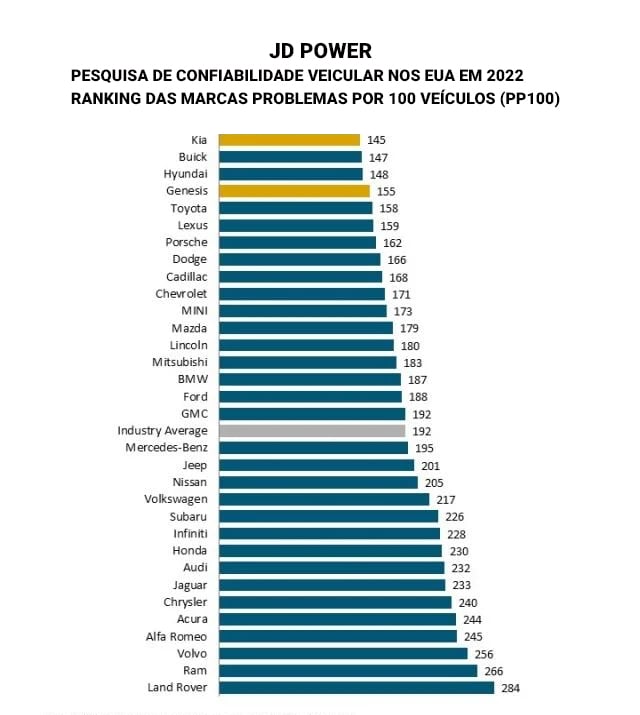 The president of Jaguar Land Rover has already admitted that his cars are not of good quality:
👍 Did you like it? Support our work by following our social networks and get access unique content. Don't forget to comment and share.
Oh, and if you're a fan of the sounds of Borissearch Automated Chat on the main podcast platforms: