Ford is already gearing up for the commercial debut of the new Tourneo Connect. The commercial has been modified as a result of the cooperation between the American corporation and Volkswagen of Germany. The commercial, which is more stylish and sophisticated in appearance, more practical and roomy on the inside, and equipped with new engines, will visit dealerships in the spring.
It is a wholly new development, shared with the new Volkswagen Caddy generation. When the German has amassed a year's worth of sales, it is the time for the oval brand model to place its bet on the market, in which it has grilled all the meat. A deserving relief with which they want to surpass the German model's sales. The new Ford Tourneo Connect 2022 is almost ready to launch in Europe.
The American brand's multifunctional commercial was produced specifically for Europe, providing buyers with two options: The Tourneo Connect and Grand Tourneo Connect both include optional side sliding doors with manual or automatic opening, as well as two or three rows of seats – up to seven in both instances – that can be folded or removed entirely to increase storage capacity.
The Tourneo Connect L1 is 4,501 millimeters long and has a cargo capacity of 2.6 cubic meters, while the Grand Tourneo Connect -L2- is 4,854 millimeters long and has a freight volume of 3.1 cubic meters. Aesthetically, they will be distinguished by the increased distance between the axles and the wider side doors, with the exception of the most daring variant. This is the 'Active'finish, which includes a specific body kit with crossover style.
The exterior has a silver-painted honeycomb grille and dark-colored wheel arches, side skirts, and bumpers, as well as 17-inch 5-spoke alloy wheels wrapped in 215/55 R17 tires, while the inside features blue upholstery with blue accents and ornamental seams. Additionally to the "Titanium" level, the German manufacturer will offer this finish with specific equipment that includes the following basic features, including a center airbag between the front seats.
The new Tourneo Connect series engine lineup features a 1.5-liter EcoBoost petrol engine with a maximum output of 114 hp and a 2.0-liter EcoBlue diesel engine with two power levels: 102 and 122 hp. They are identical to those on the new Caddy, which means the latter has two AdBlue injectors to minimize nitrogen oxide emissions. Take caution, since the EcoBlue diesel engine is capable of running on both biodiesel and synthetic gasoline.
The range is available with a 7-speed dual-clutch automatic gearbox in gasoline and a 6-speed manual transmission in the most powerful diesel. Additionally, this gearbox is now available with front- or all-wheel drive in the 122-hp diesel variant. The new Tourneo Connect and Grand Tourneo Connect will begin arriving at dealerships in May.
Exterior mirrors are electrically adjustable, heated, and folding
The cooling system has been redesigned and works more effectively; now it takes its energy from a heat pump. The electrically adjustable, heated, and folding exterior mirrors use as little as possible of your car's electrical energy so that you can enjoy all day long a strong charge in its batteries.
The mirrors are activated when you signal left or right so that you can drive without distraction to overtake other cars or turn off into a side street. Also, if someone overtakes you on an open stretch of road, you can adjust your mirror yourself at high speed to make sure that person doesn't take advantage of his superior momentum to cut in front of you in an unethical way.
Lane Keeping Assistant
When approaching a junction or slower-moving vehicle, Lane Keeping Assistant will scan the road ahead and give an audible warning if it detects lane markings. If you don't react in time, or your hands are off-wheel for too long, then Lane Keeping Assist will gently guide you back into the lane with a warning vibration on both front seats.
If you fail to respond to these warnings for a few seconds, then it will lightly apply pressure to your steering wheel until you respond or slow down enough to stay in lane. The system can be switched off by using a button on each door frame. When active, drivers have rated Lane Keeping Assist as more comfortable than traditional adaptive cruise control systems that tend to hold a constant distance from cars ahead of them.
Cruise control system with adjustable speed limiter
The new cruise control system with an adjustable speed limiter also regulates in a similar way, but simply in respect of top speed. The desired maximum speed is set between 120 and 200 km/h as a function of road conditions, driving style, and traffic development.
The closer you are to your destination and the denser traffic becomes, for example, or if you want to consume less fuel – such as on long motorway journeys – then it is possible to activate that specific mode. In that case, it makes no difference whether another car reaches higher speeds ahead of you or overtakes you; in any case, your vehicle will regulate its speed automatically.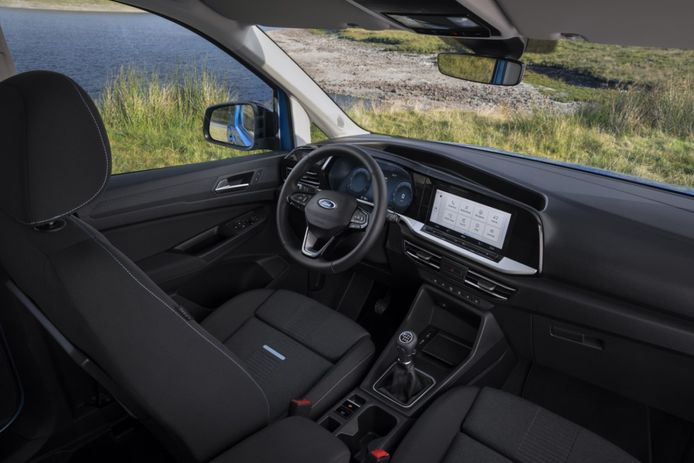 The standard front seats in Ford Tourneo Connect's new saloon were designed to offer more comfort and lateral support than ever before. This is achieved by combining power-adjustable lumbar support with an active backrest cushion, which constantly adapts to your posture while driving. That results in greater comfort on long journeys and improved sporting performance during spirited driving.
The lower seat cushion has been slightly lowered, allowing you to adopt a sportier seating position when using the optional bucket seats fitted as part of a configuration option package called Sport Plus. The driver's seat is also equipped with a massage function for a truly indulgent experience. A steering wheel with contrast stitching and blue accent stitching completes Ford Tourneo Connect's sporty interior design language.
Multifunction steering wheel
The new multifunction steering wheel with a touchpad can be used as a compact 7 infotainment display and is therefore ideal for drivers who spend a lot of time on motorways. While driving, drivers can use their thumb to scroll through menus and control their car's features. The touchpad reacts to contact at any point on its surface, allowing intuitive control of functions without having to remove your hands from the steering wheel.
The same holds true when taking hands off at intersections and when overtaking on two-lane roads. Multitasking becomes even easier due to voice controls that enable you to use intelligent search features as well as navigation apps such as Google Maps or TomTom Navigation. You can also write messages using voice commands while making a phone call.