Mazda chose the roads of Serra de Sintra and Guincho for the international presentation of its new SUV. CX-60which can already be imported in our country.
About to enter the market, something that will happen this summer in our country, the CX-60 will start with a hybrid engine. Plug inwhich makes it the first of its kind in Mazda's century-old history.
And it was precisely in this engine that we were able to "lay hands" on this new SUV from the Hiroshima brand, which will be placed above the CX-5, a model that is 17 cm shorter.
ALSO READ: We tested the Mazda CX-30 e-Skyactiv-X. Is it as economical as it promises?
This is also the first of five new models to be launched by 2025 that will be based on the unprecedented platform Skyactiv Multi-Solution Scalable Architecture all-wheel drive (and all-wheel drive), capable of meeting the Japanese manufacturer's new network. six cylinder engines.
However, these new "six in series" will only arrive in 2023, although it has already been confirmed that one will be a 3.0-liter Skyactiv-X petrol and the other will be a 3.3-liter Skyactiv-D diesel. Mazda, for now, has come up with only a few Diesel numbers – know them.
The strongest ever
But for now let's turn our attention to the CX-60 hybrid Plug in (PHEV), which will be the first model variant to enter the market.
In this PHEV version, the Mazda CX-60 combines the familiar 2.5-liter four-cylinder naturally aspirated gasoline engine, with a 129 kW (175 hp) electric motor mated to an all-new eight-speed, electric transmission. engine powered by a 17.8 kWh battery.
This combination results in a maximum electric range of 60 km, a together the total power of 327 hp and a maximum torque of 500 Nm, figures that make this the most powerful production Mazda in history.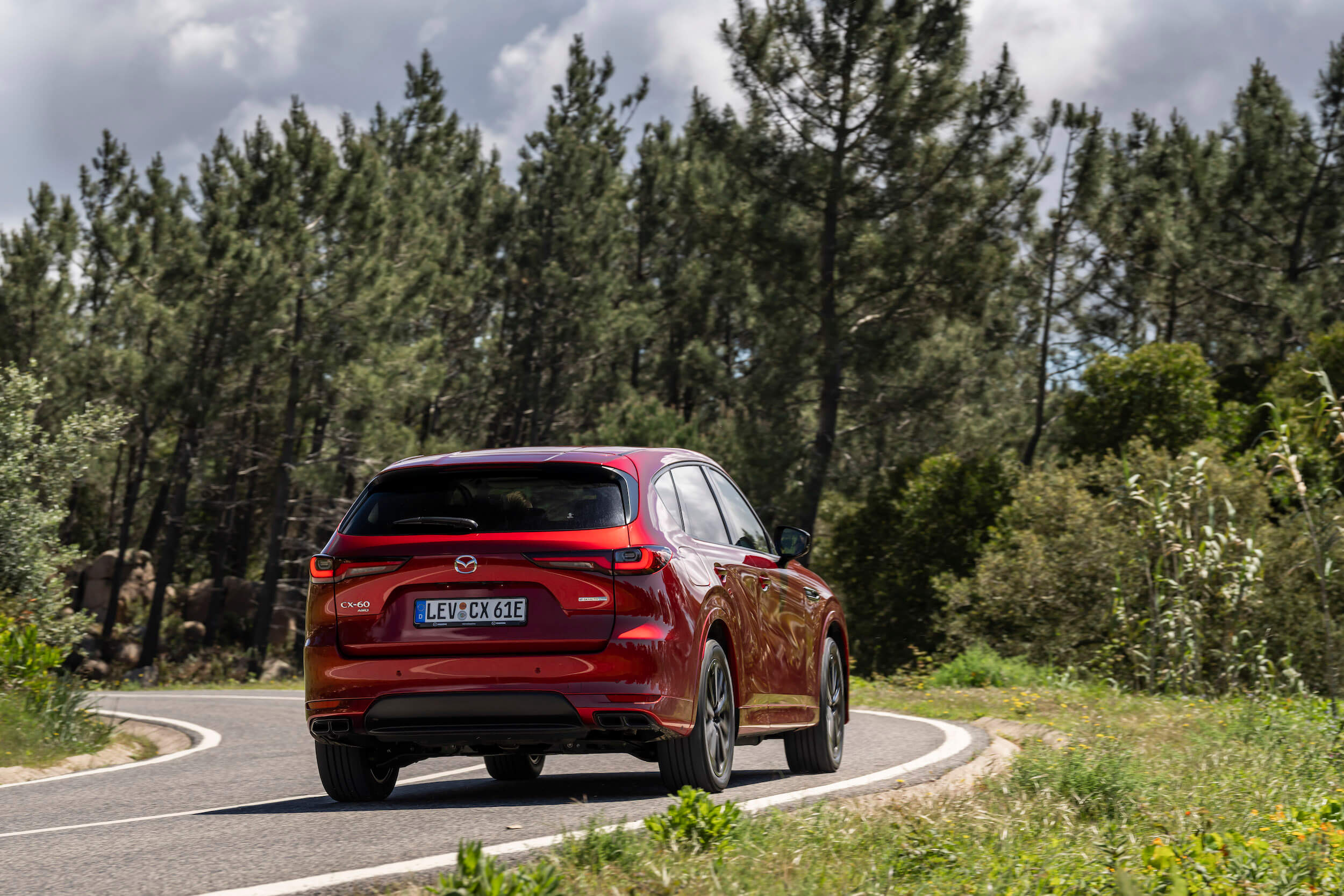 Focus on trends
Despite denouncing 2055 kg in standard and generous dimensions, the Mazda CX-60 delivers run run from 0 to 100 km / h in 5.8s and has the ability to accelerate to a maximum speed of 200 km / h (small).
In a straight line, when we step on the trigger, the response is firm and without hesitation. But it's when we get to the corner that we realize this isn't just another big, heavy SUV.
The steering is heavy and lets you feel what's going on – it might be too heavy for some people… – and it's always very precise, just like we'd expect from Mazda.
And then we have to talk about body control, which is very well done. Mazda assures that much is due to the fact that it has developed its own technology, called Kinematic Posture Control, which stabilizes the CX-60's posture in curves.
Discover your next car:
And therefore, the system can break the rear wheel that is inside the curve to reduce the rolling and sinking of the body.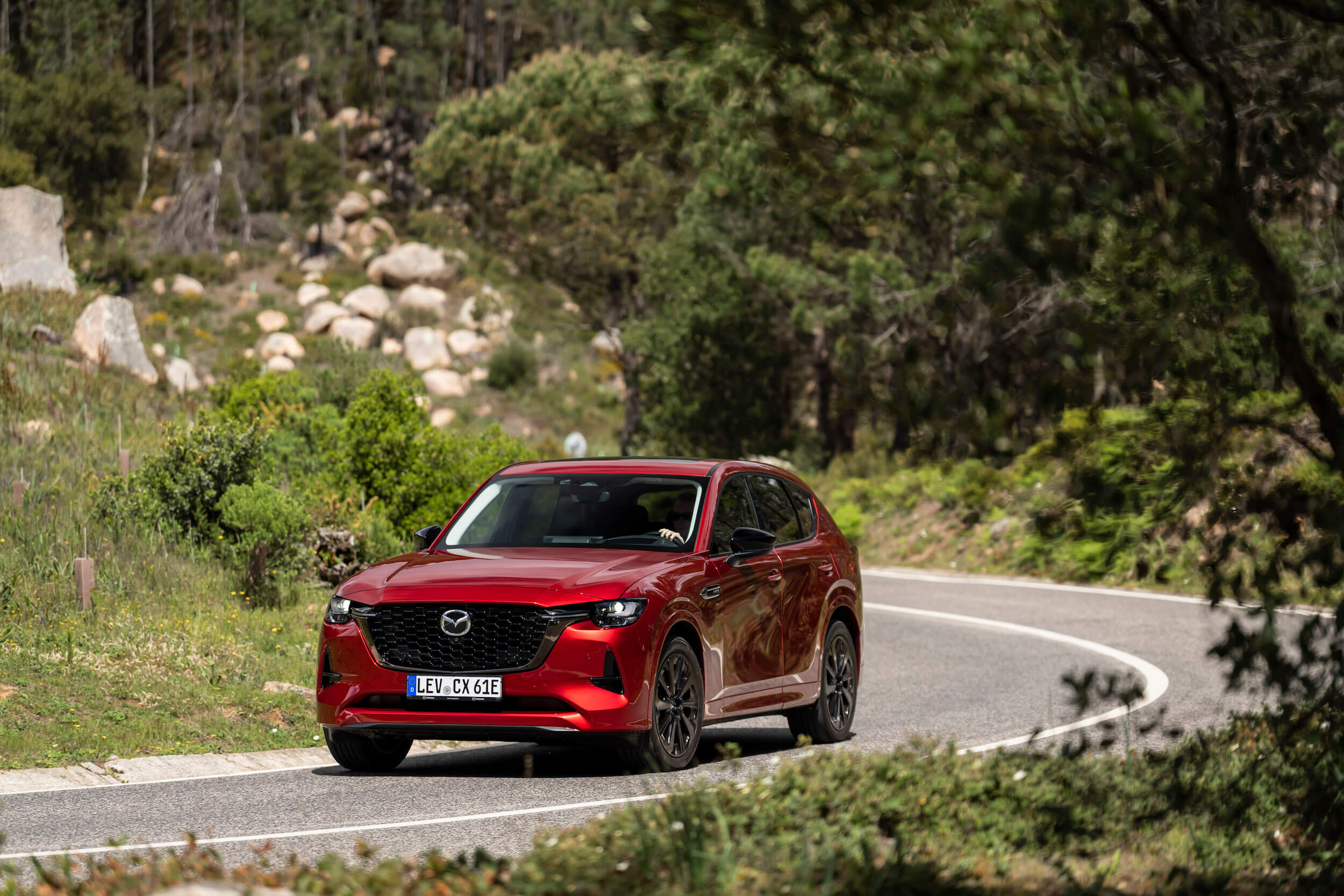 When will it arrive and how much will it cost?
The new Mazda CX-60 has already started production in Japan and is about to arrive in Europe. Regarding the arrival on the national market, the management of the brand in our country admitted to us that it should happen before August.
TO NOT LOSE: Wankel returns to Mazda with the MX-30 plug-in hybrid
Currently, it is that the SUV will arrive in our country with four levels of equipment and at the following prices (still estimates):
CX-60 PHEV Prime-line – from 53,750 euros;
CX-60 PHEV Exclusive-line – from 55,350 euros;
CX-60 PHEV Homura – from 57,750 euros;
CX-60 PHEV Takumi – from 59,300 euros.