The accident involved two cars on Avenida Afonso Pena this Saturday (6), near Shopping Campo Grande, in the Capital. As a result of the accident, one car caught fire. Two people were injured. According to the witness, the victims were rescued by SAMU (Mobile Emergency Service).
The witness also said that a woman was already inside Samu's ambulance when the rescuers tried to remove the man who remained inside the silver car, made by Citroen. A few minutes later, another ambulance arrived at the scene.
It is not known what the dynamics of the accident were, because there are no official records. But even according to those who witnessed the accident, friends of the victims who were in the Citroen car threatened to attack the driver of another car, a Corcel whose part caught fire in the collision.
The driver of the old car was able to get out of the car and was not injured.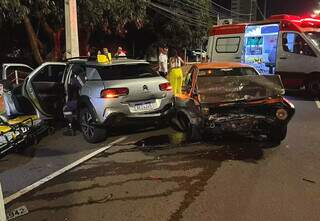 straight from the street – Status reached Campo Grande news through Direto das Ruas, a channel of interaction with readers. Anyone with brief information, suggestions, news, audio, photos and videos can share on WhatsApp at (67) 99669-9563.
Click here and submit a proposal now.
In order for your photo to have the best quality, we recommend that photos and videos be taken with the mobile phone in a horizontal position.