Advertise your car on Mobiauto
"This car is mostly used in operations to access reserves and environmental protection areas. Areas that are difficult to reach, where we have to be careful not to damage the environment", explains Marcílio Donizete Gomes, Copel Distribution area manager in the area.
"It is also used in emergencies. Since it is a 4×4 vehicle with a tracking system, it allows mobility in regions and soils that are difficult to reach", adds the company representative.
The mats, manufactured by the American company Mattracks, can be installed in almost any utility vehicle. The equipment is connected to the hub of the wheel, which, when turning, moves the rubber belt mechanism. By changing the dynamics of the pickup, the treadmill has its limited use at a speed of up to 64 km / h, according to the manufacturer.
Read also: Rating: Ram Classic, V8 thug vs Hilux SRX and Amarok V6
Thanks to the tread mills, the Copel Pickup is able to drive in areas that even 4×4 traction vehicles, even with standard tires, cannot reach. Especially in the season of frequent rains, which create mudslides that cannot be defeated by services that do not have this type of equipment.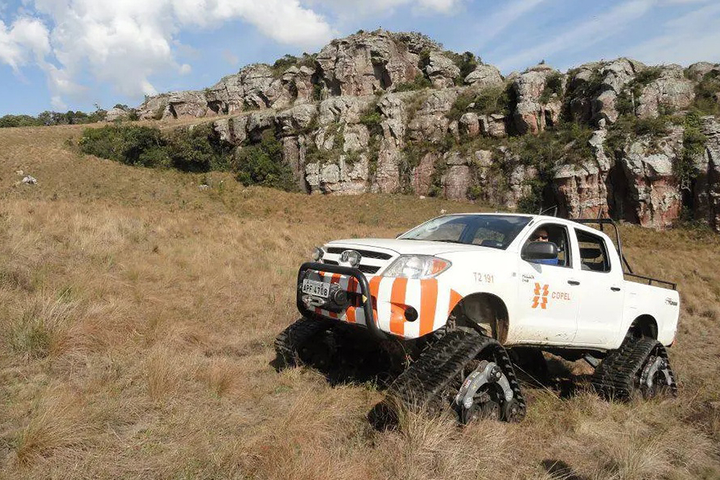 Outside of Brazil, treadmills are typically used in countries with mild winters and areas with heavy snowfall. According to posts on social networks, Copel's photo was taken by the company Monster Lift, from Londrina (PR). The cost of the reform was not disclosed.
However, a quick internet search shows that the devices are not cheap. Prices range from US$ 5,000 (more than R$ 25,000, for a simple conversion), for small vehicles, such as ATVs and ATVs, to a ridiculous US$ 70,000 (R$ 355,000) for large trucks like the Ford F- 450. .
The value of the tracks varies according to the size, weight and load capacity of the vehicle. In a supply tender issued by the US government, a set of Mattracks 88M1-A1 tractors (similar to Paraná's government-owned Hilux) cost more than US$27,000 to the US public treasury, equivalent to R$136,800. for direct conversion..
You may be interested in:
Fiat Fastback has revealed the interior and shows the Pulse elements
Review: VW Polo, what needs to be improved (or not) on the 2023 line
Jeep Gladiator, a pickup truck that even has portable speakers