According to information from the Federal Highway Police (PRF), the father and his son were in a utility vehicle heading to Greater Vitória. The car allegedly tried to overturn when it collided head-on with the heavy vehicle. Part of the road has no destination and was a continuous path, where passing is prohibited. The accident happened around 21:10, at a distance of 121 km.
From the photo, it is possible to observe that the car was completely destroyed, especially the front part. André survived and, during treatment, his health condition was stable.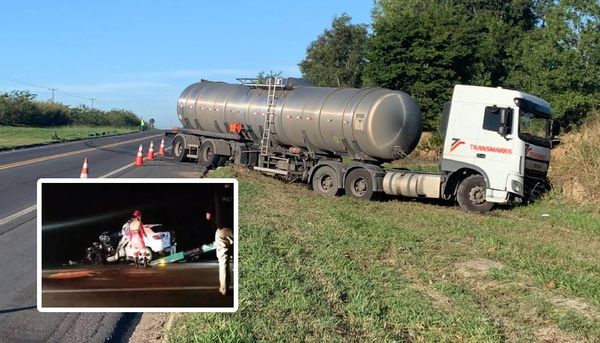 The flammable liquid, which was not specified, did not leak from the trailer, according to the PRF. Still on Thursday morning (28), the car remained on the banks of BR 101. The removal is the responsibility of the insurance company, informed Eco 101, highway worker in ES.
*With information from Eduardo Dias, from TV Gazeta Norte
This video might interest you
Did you see any mistakes?


Talk to the Editor

Have you seen any incorrect information in the content of the Government Gazette? Help us fix it ASAP! Click on the button on the side and send your message.
Send your comments, feedback or criticism directly to the editors of the Gazette.