Friday 08/01/2010 – Reduction: Americans will have smaller shift engines.
Americans have a saying: "no alternative to cubic inches". Or nothing replaces the capacity of the cylinder, and that's how they justified the use of a larger engine … Until the first oil crisis in 1973. Either a long time ago, but the idea of ​​the need for mass transfer to ensure performance and comfort remains. in everyone's mind. And American cars (or in general, cars sold in this country) always have more engine capacity than European ones. We see the BMW 1 and 3 series, whose smallest engine in the United States is 3 liters. Enter the Buick Regal, which is the American version of Opel Insignia. In Europe, Insignia has 4 gasoline engines (1600, 1800, 2 liters and 2.8 liters), and of course 2 liters of turbo-diesel.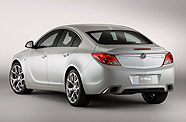 For the American market, the base engine will be (the car will only be available there in the spring) 2.4-liter 182 hp. As an option, a small, 2-liter turbocharged 220 hp engine. But now we are announcing a more powerful version, based on the OPC version of Insignia. This model has a European 2.8 V6 of 320 hp, but surprisingly, for the US market, it is a 255 hp version of the 2-liter turbo that has been saved. So sure, this engine is already American standard, it is the old Pontiac Solstice. So there is economic interest, because it would cost more to make the European V6 American. But the American car will have a smaller transfer engine than its European version, it is the first.
Parts and keyword (s): General-Motors; diesel gas