As announced last March, the Mercedes-Benz Sprinter benefits from a series of updates for the 2023 model year, both technically and in the cabin. The company is giving us more details today on the model that will go on sale in Canada starting this winter.
First, forget the 3.0-liter turbodiesel V6. In its place, a new 2.0-liter four-cylinder turbodiesel engine will be offered with two power levels. With a single turbocharger, it produces 168 horsepower and 295 lb-ft of torque. With a twin turbocharger, it produces 208 horsepower and 332 pound-feet of torque. By the way, it's an engine that was already found in some Mercedes-Benz cars in Europe.
Sports drivers can expect increased acceleration, not to mention reduced fuel consumption and emissions (mainly due to the after-treatment exhaust system around the engine).
The base engine will remain a 2.0-liter turbo four-cylinder gasoline engine, which produces 188 horsepower and 258 pound-feet of torque. Its power is transmitted to the rear wheels.
Improve transmission and cog
Next, a new nine-speed automatic transmission will be included as standard on all variants, again for greater smoothness and fuel economy. Compared to the old seven-speed transmission, the first gear ratio is higher, which promotes faster starts, while greater shocks between gears translate into better overall performance, says Mercedes-Benz.
Replacing the previous 4×4 system, the Sprinter 2023's new automatic all-wheel drive is said to be better and more durable. Torque distribution can now reach 50% per axle (previously 35% front and 65% rear). In addition, the new system features do not change the ground clearance of the van.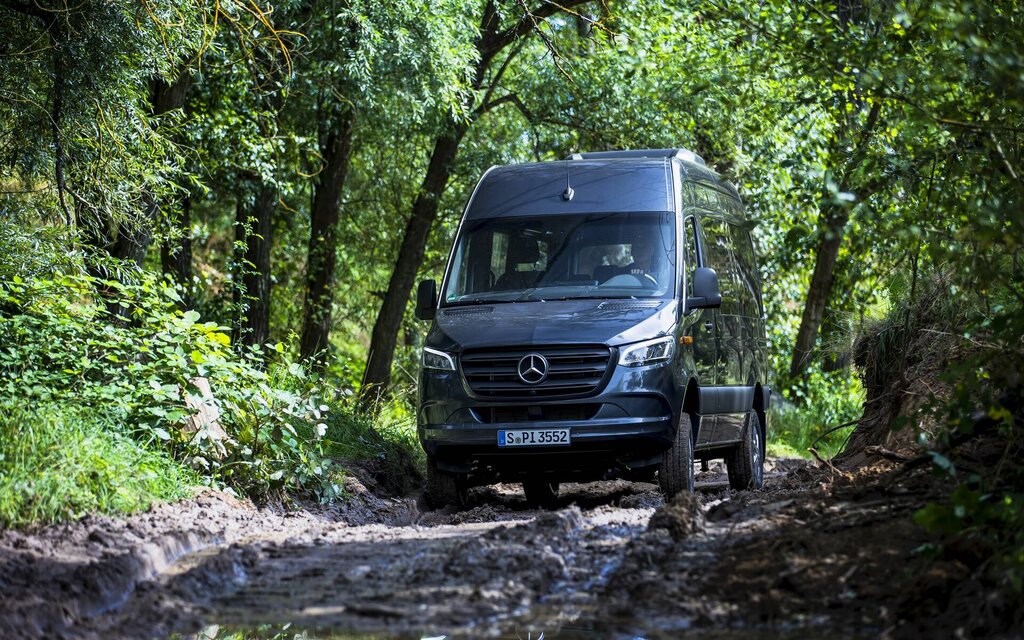 More connectivity and security
A sign of modern times, prayer Mercedes I connect has been added to the Sprinter offer for 2023. These are digital services that make it possible to monitor and control certain functions of the vehicle, both on board and remotely. For commercial customers, it is a solution that will help them improve their daily operations, for example by keeping an eye on mileage, oil level, tire pressure and water levels.
If a problem occurs, Mercedes me connect can enable a remote diagnostic test, which allows technicians to access data to help solve the problem in question. If it's necessary to go to a dealer for urgent repairs or a problem, just find the nearest one through the app.
Finally, let's mention that the Sprinter has a new rear-mounted camera that displays the image on the interior rearview mirror screen. For drivers who have little or no rear view in their car, it is very practical.
We repeat, the 2023 Mercedes-Benz Sprinter will go on sale this winter. Its prices will be announced closer to its arrival.
In the video: our Mercedes-Benz EQS 2022 test