The new Mercedes-Benz C-Class is now complete with the addition of the Mercedes-AMG C 63 SE Performance 2023, which is above the C 300 and AMG C 43 versions in terms of power and sportiness.
We describe in detail in another text the mechanical and technological aspects of the car following our interview with Jochen Hermann, technical director of Mercedes-AMG, but here is what you should remember in general.
A four-cylinder hybrid instead of a V8
The outgoing generation did a lot of work with a 4.0-liter turbocharged V8 up to 503 horsepower, but it's a completely different powertrain that powers the C 63 S this time around. As the accompanying "E Performance" name suggests, electrification is invited into the equation.
The 2.0-liter four-cylinder turbo engine, unlike the one found on the regular C-Class and the most powerful on the planet (469 horsepower), is paired with a rear electric motor with 6, 1 kWh. Together, they produce no less than 561 horsepower – or 671 horsepower for 10 seconds when the Overboost feature is activated – along with a maximum torque of 752 lb-ft.
The state-of-the-art 4MATIC+ all-wheel drive system distributes power to all four wheels, and acceleration from 0-100 km/h is achieved in just 3.4 seconds – half a second faster than the 503-hp BMW M3 Competition.
By the way, the electric turbocharger is assisted by a 48-volt motor to increase response and reduce lag. As for the battery, it only offers a range of 13 kilometers according to Mercedes.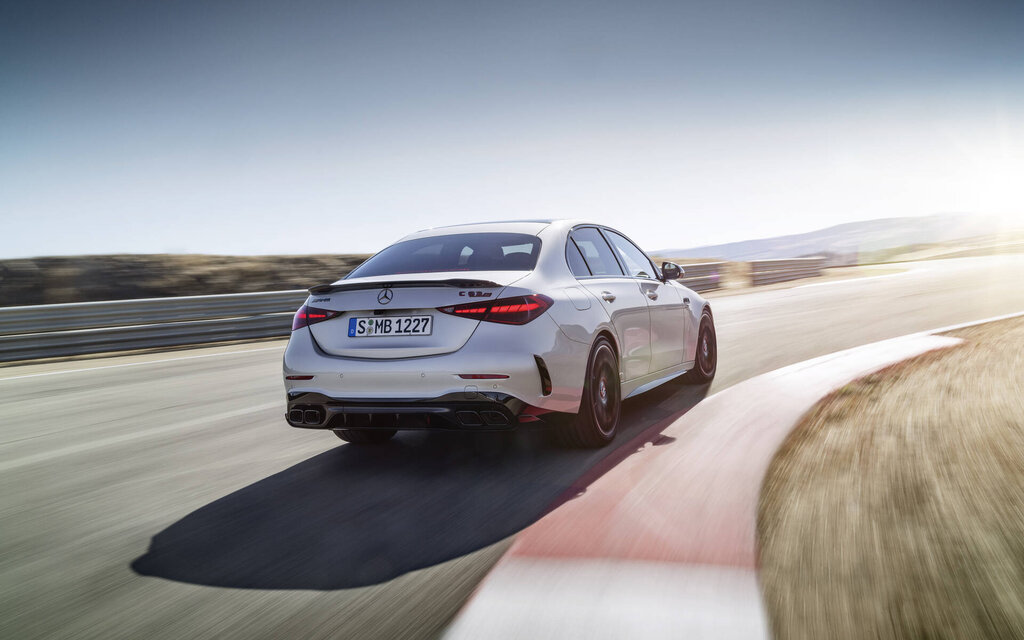 Moderate appearance
In terms of design, the 2023 Mercedes-AMG C 63 SE Performance stands out wisely from the C 43. We see a modified air intake under the front bumper, small covers on the front fenders with "Turbo E Performance", exclusive . 19 or 20 inch wheels as well as the more familiar rear spoiler and diffuser. The four exhaust tips here are trapezoidal in shape and not circular.
The interior doesn't change much: sports seats with different inserts and stitching, a sports steering wheel that includes a drive mode selection wheel, an 11.9-inch vertical touchscreen and a 12.3-inch digital instrument panel. The latter, however, offers special performances for a more powerful version. Of course, navigation with augmented reality, a head-up display and an AMG track recorder are available.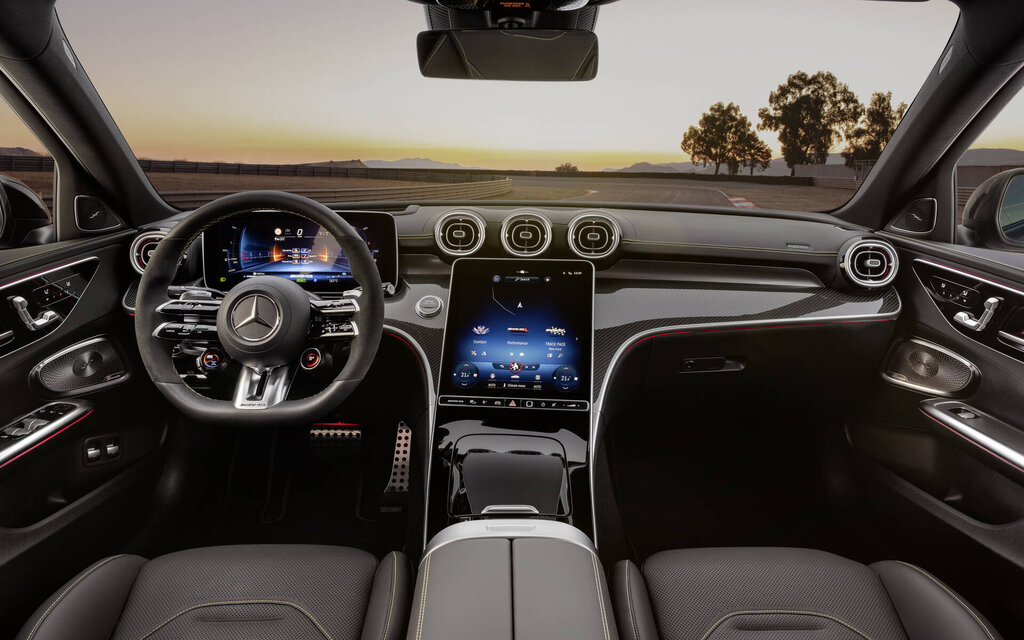 The 2023 Mercedes-AMG C 63 SE Performance is expected to go on sale in the Canadian market next year and pricing will be announced shortly before. For information, the old one was sold from $ 89,700 in the four-door sedan model, but expect a significant increase.
In the video: Mercedes-Benz C-Class 2022 test drive