EV6 GT, KIA'S MOST POWERFUL PRODUCTION
Voted "car of the year 2022", the EV6 fully electric crossover expands its range with a high-performance version. With 585 hp and 740 Nm of torque, the EV6 GT is none other than Kia's most powerful production car ever built by the South Korean manufacturer.
It's a real request that surrounds this Kia EV6 since its launch. Not content with being the 2022 Car of the Year, Kia's first to win this prestigious European award, the EV6 is now moving up a gear with the early 2023 arrival of the GT version, a 100% electric powered Grand Touring. of 585 hp and 740 Nm of torque. For Kia, this EV6 GT is the most powerful production car ever built. Based on the 4-wheel drive EV6, the GT is equipped with a special design that sets it apart from the rest of the range. Sports-type components match the high-performance model with a special front bumper, 21-inch wheels, an aerodynamic spoiler, a special diffuser, neon green brake calipers or even better cover plates. The passenger compartment benefits from a distinctive stripe pattern finish on the top of the dashboard and the front of the center armrest, while the door panels, center console and dashboard incorporate lighting. an ambience that diffuses a soft and soothing light at night. The ergonomic two-spoke steering wheel incorporates the GT's drive mode selector, allowing the driver to easily access it to customize their driving experience. We also see the integration of an augmented reality display (AR HUD), which generates driving information based on the windshield in the driver's field of vision. The system displays notifications from various advanced driver assistance systems, vehicle speed information and turn-by-turn navigation instructions.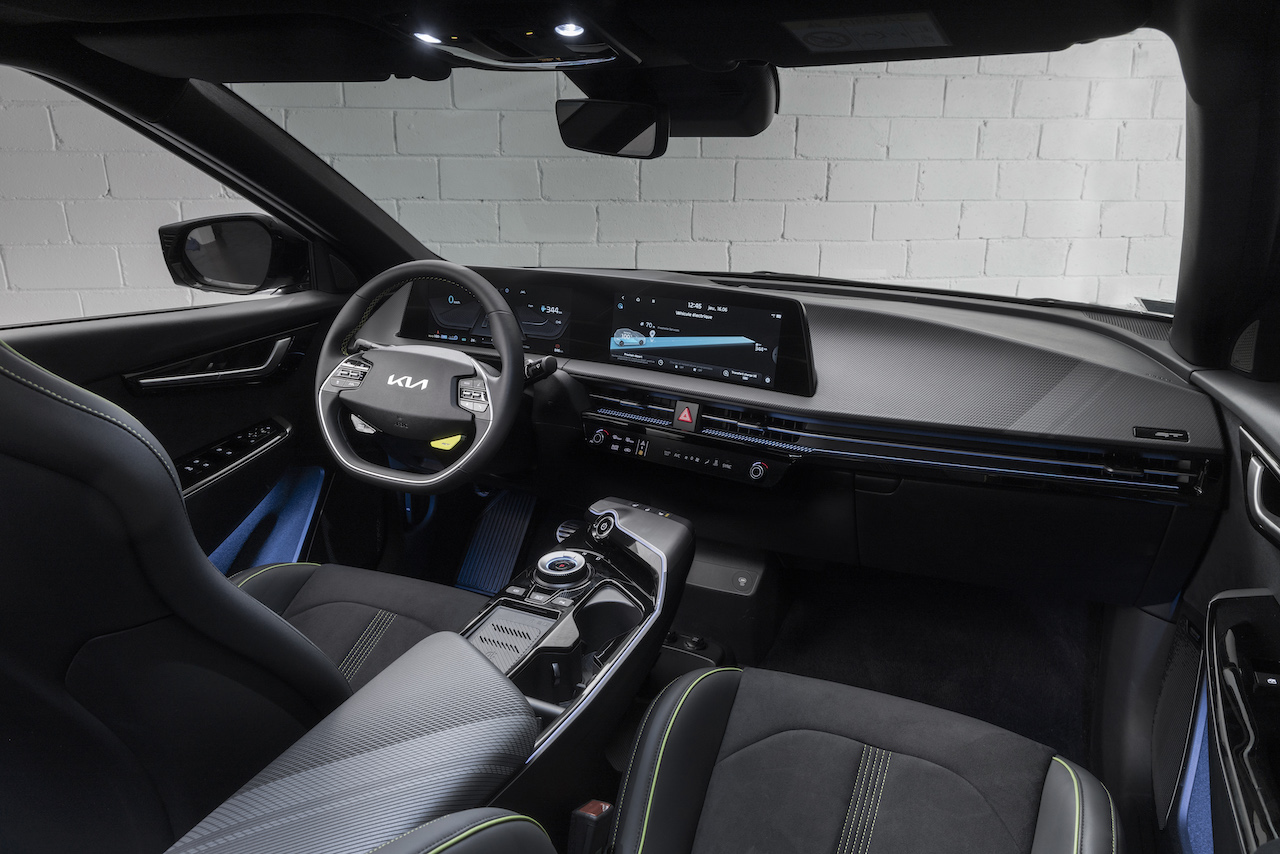 This EV6 GT has two electric motors (218 hp front and 367 hp rear) develops 585 hp with 740 Nm of torque and sets new standards in its segment in terms of performance and road characteristics thanks mainly to the use of a limited slip differential that improves handling and cornering stability by automatically distributing torque to wheels that provide more grip. Capable of accelerating from 0 to 100 km/h in 3.5 seconds and reaching a top speed of 260 km/h, the EV6 GT drives like crazy and is on par with some supercars. Its maximum range in the combined cycle is 424 km and it can reach 546 km in the urban cycle. Using an 800V system, it offers the fastest 10-80% charge of its 77.4 kWh battery in just 18 minutes.
The Kia EV6 GT is now available to order for €72,990. First shipment in France in early 2023.
Photo DR ACE Team