Mercedes-Benz introduces its third electric vehicle based on the EVA II platform. The luxurious EQS SUV is offered as a seven-seater with a maximum power output of 400 kW. We have all of the vehicle's details.
Mercedes-Benz groups together its electrified vehicles under the EQ moniker. There are already two automobiles on the Stromer platform, dubbed the EVA II, with the EQS and EQE. In the future, the two cars will be joined by a huge SUV capable of transporting up to seven people without emitting any pollutants. Visually, the EQS SUV has the brand's logo, such as the black panel front and solid light graphics on the back. You will learn how equipment, drive, technology, and variability are organized in this article.
2022 Mercedes-Benz EQS SUV undergoes the first inspection
Leave the vehicle during a charging stop? That does not have to be the case. After all, the EQS SUV is so luxurious. Because Mercedes equates it to the EQS's plenty of value, luxurious furnishings, and equally extensive infotainment. For instance, privileged rear passengers may electrically modify their seats for a more easy view of the infotainment panels or just to watch the clouds/stars move – all via the big, well, very large, panoramic glass roof.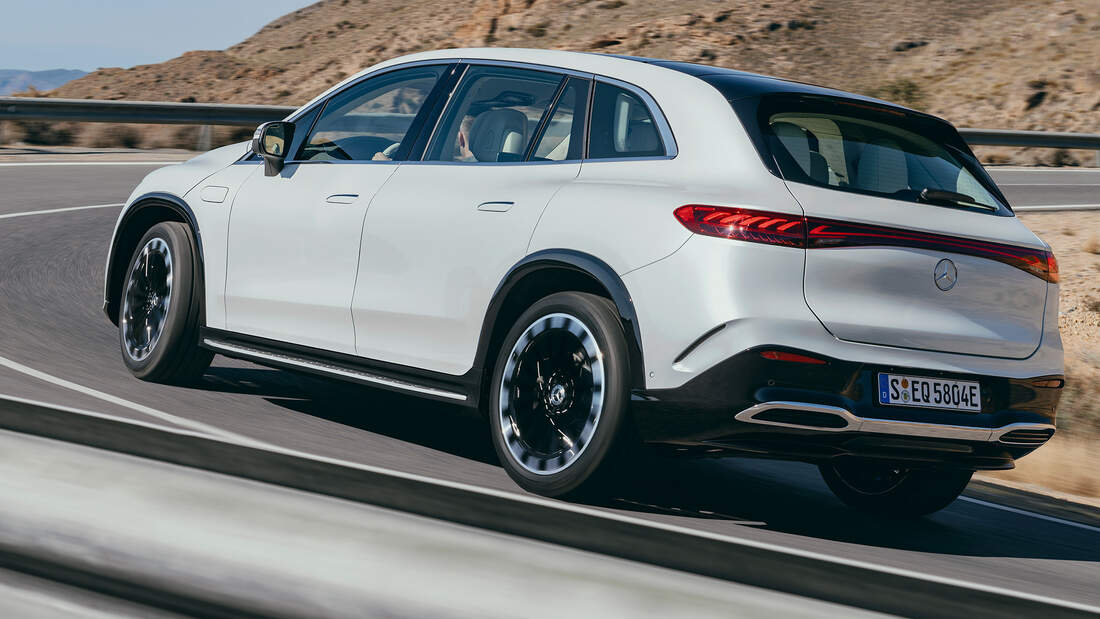 The EQS SUV's front end is similarly luxurious to the sedan's. In other words, the hyper screen, can be seen on the passenger side and even while driving. Because the internal camera detects precisely when the driver is looking in that direction, the driver's field of view is concealed on the right of the three displays merged behind glass."
The third row of seats, which is optional, folds out from the cargo area's floor.
In comparison, the third row is less brilliant. This very decently comfy pair of mother-in-law chairs may be folded out of the baggage compartment's floor as an option. Although it is prudent not to mess with well-heeled mothers-in-law or aunts, the EQS SUV with all-wheel drive should cost in the six figures even without options, which is likely close to what Mercedes charges for the EQS 580 4Matic ( 135,529 euros and ten cents).
However, how much is too much? If it is only one size too large, then the fourth of the four models may be within reach. The EQE SUV will come at a later date that has not been determined and will be comparable in size and price to the GLE. Even yet, it remains majestic enough to pass for a genuine dream ship.
Dimensions and volume of loading
The EQS SUV has the same 3,210-millimeter wheelbase as its sister vehicle, the EQS, but is 20 centimeters higher (1,718 mm). The luxurious Stromer is 5.12 meters in length and 1.96 meters in width. While these proportions often favor rear passengers or the baggage area, the EQS SUV's dimensions are more flexible.
When the new EQ model is ordered as a five-seater, the rear seat folds down to provide up to 2,100 liters of storage space. The trunk holds between 645 and 800 liters of cargo in regular usage, depending on the arrangement of the electrically adjustable second row of seats. On the one hand, this may be moved lengthwise by 130 millimeters and tilted forward and backward by 14 and 4 degrees, respectively. In the ratio of 40:20:40, conversion is feasible.
The third row of seats (two separate seats) allows for a maximum capacity of 2,020 liters in the back when all seats save those in the first row are folded down. When all seats are filled, there is still 195 liters of loading capacity available. Anyone who needs to put their baggage has room under the open tailgate without kneeling up to a height of about 1.98 meters. From front to rear, the interior height lowers. The distance between the seat surface and the headliner is 1,035 millimeters in the front row, 1,030 millimeters in the second row, and 900 millimeters in the third row.
The seat surface and headliner are separated by an additional 900 millimeters in the third row of seats.
Drivetrain, battery life, and range
Three trim levels are offered for the EQS SUV. The entry-level model is the 450+, which has rear-wheel drive, 265 kW (360 hp) of driving power, and a WLTP-rated range of up to 660 kilometers. Above that, an all-wheel-drive variant with the same performance and a range of up to 613 kilometers is available.
Mercedes-Benz places the EQS SUV 580 4Matic at the top, with 400 kW (544 horsepower) and a maximum range of 613 kilometers. The 4Matic variants are powered by two permanently excited synchronous motors; the entry-level model has just one rear axle motor. On all-wheel-drive cars, the control electronics monitor the torque distribution up to 10,000 times per minute and modify it automatically if required.
The lithium-ion battery placed in the underbody is 107.8 kWh in capacity and is made up of 12 modules. The manufacturer promises a residual capacity of 70% for a ten-year or 250,000-kilometer service life. It may be charged with either direct current (DC) or alternating current (AC) (AC). The EQS SUV can reach a maximum electric range of 250 kilometers in 15 minutes when equipped with a DC fast charger with a charging capability of up to 200 kW. It charges from 10% to 80% of its capacity in 31 minutes.
The normal AC onboard charger (11 kW) takes ten hours to completely charge the battery; the optional 22 kW charger reduces this time in half. While driving, recuperation enables power to flow back into the battery. As long as the driver chooses Stude D (normal recovery), D- (increased recovery), or D-Auto (recuperation adapted to the situation by the assistant). The EQS SUV sails in D+ mode without regenerating. In the EQS SUV, the one-pedal operation is also feasible, i.e. deceleration by recuperation to a halt (without triggering the mechanical brake).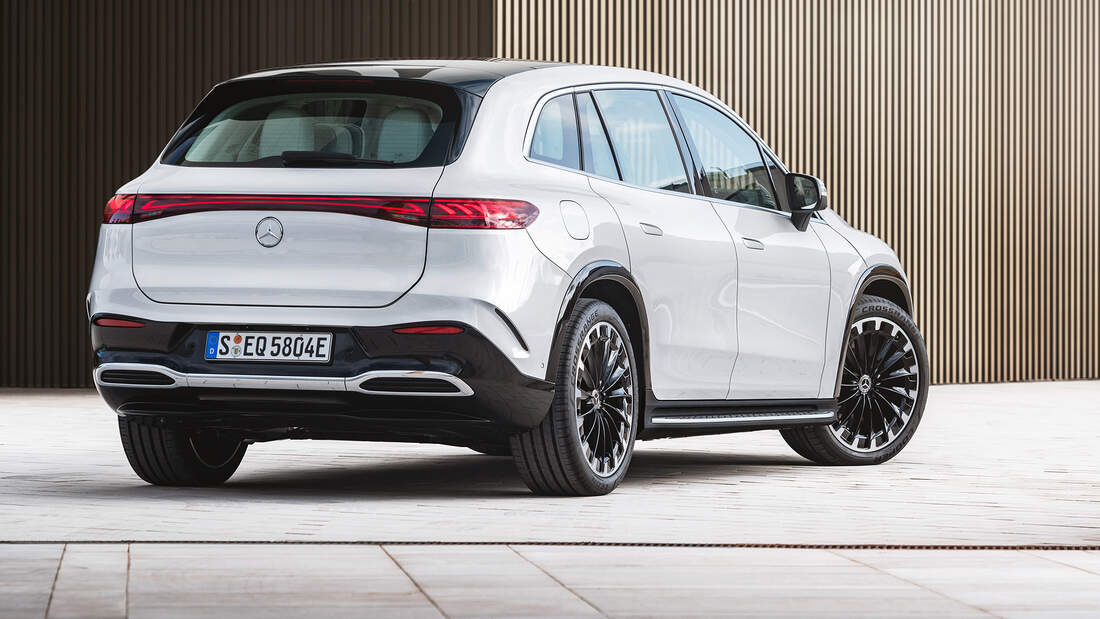 The usual onboard charger consumes 11 kW of power from the house wall outlet. With the EQS SUV's battery capacity of 107.8 kWh, upgrading to the 22 kW version is advised.
Dynamism and chassis
All EQS SUVs come standard with a four-link front axle and a multi-link rear axle, as well as Mercedes' "Airmatic" air suspension with adaptive adjustable damping. The air suspension system allows the big Stromer to be raised or lowered by up to 25 millimeters from its regular position (the exact value has not yet been communicated by Mercedes). The latter is accomplished in sports driving mode in order to improve stability and minimize drag at greater speeds.
Additionally, the rear-axle steering with a maximum steering angle of 4.5 degrees is included as standard, with an optional maximum steering angle of 10 degrees (also works after delivery via OTA update). This results in a turning circle reduction of up to 11.0 meters. On the front axle, the spring and damper are combined, but on the rear axle, they are mounted individually. A redesigned front axle support structure dampens vibrations and oscillations sensed in the cabin when driving.
Also, the air suspension has automated level adjustment, which ensures that the EQS SUV's ground clearance stays consistent regardless of the load. The Dynamic Select button allows for the selection of Eco, Comfort, Sport, Individual, and Offroad modes, which alter the powertrain, ESP, steering, and chassis characteristics. The damper identifiers for each wheel can be changed independently according to the rebound and compression stage, ensuring comfortable or dynamic movement depending on the route profile.
Mercedes categorizes its off-road mode (available only on 4Matic cars) into two distinct types. Once activated, the ESP maintains maximum traction on spinning wheels. Additionally, in the case of off-road twisting, the system already applies pressure to the unloaded wheel's wheel brake while rebounding, stopping it from spinning. Alternatively, you may drive off-road without deactivating the ESP. The increased slip tolerance allows for improved control on extremely loose surfaces such as sand.
Even though it is not often used off-road, the EQS SUV includes an off-road mode.
Equipment and personnel
Mercedes leaves little to the imagination on the inside with the big premium Stromer. Customers may choose their chosen noblesse from a range of alternatives, including leather, genuine wood with aluminum inlays, and numerous quiltings. Above all, the luxurious hyper screen dominates the cockpit (optional).
The 141-centimeter-wide glass front unites three screens and was previously seen on EQS and EQE. Eight processing cores and 24 gigabytes of RAM operate in the background to ensure the infotainment system performs well. Mercedes includes the current S-12.8-inch Class display as standard. If you choose the Electric Art Line equipment line, you will be seated in comfortable chairs. Mercedes lines the inside with the Neotex material, which has a neoprene-like feel. The AMG Line includes sports seats and leather.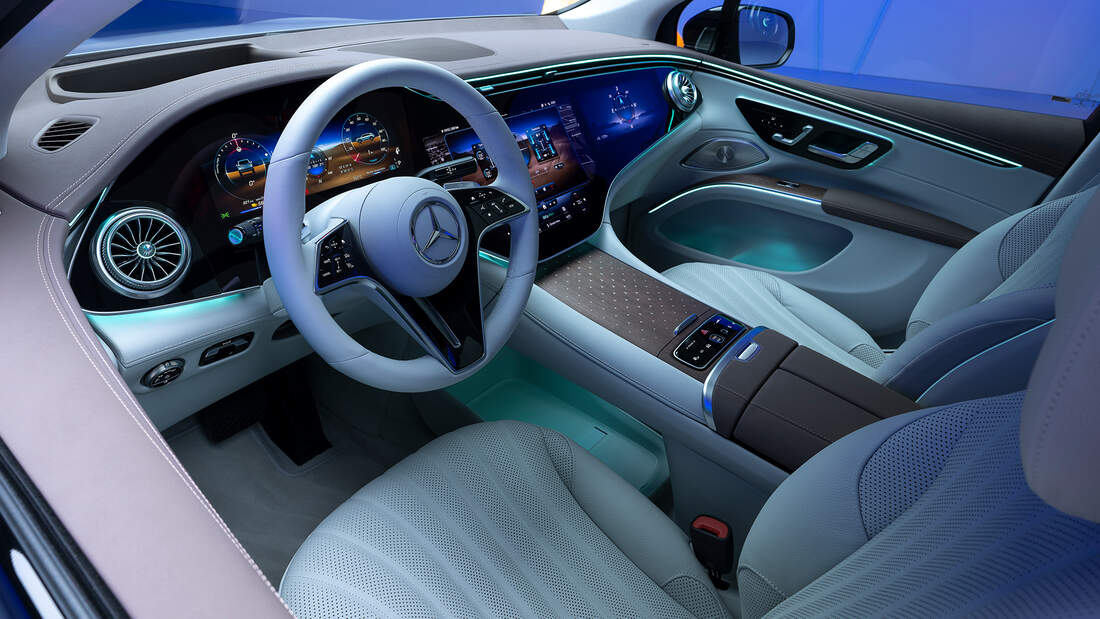 The EQS SUV also inherits high-tech features from its luxury siblings, including the projection-capable digital light and the head-up display with augmented reality. Mercedes-Benz only provides two 22-inch rim styles for the big Stromer. The wheels are coated in a multi-layer high-gloss black paint finish and are available in a five-spoke or multi-spoke configuration.
The huge hyper screen is available as an option. Mercedes refines the central console, which is constructed of solid wood and has metal inlays.
When route guidance is enabled, the navigation system's "Electric Intelligence" function assists with trip planning. Automatically insert necessary charging pauses based on numerous characteristics such as traffic conditions and geography, and the battery is preconditioned for charging while driving. Not only can the MBUX be handled through the touchscreen, but also via the language assistance "Hey Mercedes," which is capable of speaking 27 different languages.
If you'd want to engage second-row passengers in the media experience, you can also get the rear entertainment package, which has two 11.6-inch touchscreens mounted on the backs of the driver and front passenger seats. Additionally, the optional MBUX interior assistant identifies and adjusts different settings based on body motions. For instance, if you want to adjust the right-hand outside mirror, all you have to do is glance in its direction, rather than first selecting it for adjustment through a button.
Also, some functionalities may be triggered at a later time. This is accomplished by an over-the-air update (OTA update). The table below contains a list of probable add-ons.
Onboard, a two-zone automated temperature control system is standard. The technology may be expanded to five zones for the EQS SUV's seven-seater model. The vehicle's air conditioning may be pre-conditioned through an app as long as it is linked to a charging station or wall box, for example, to avoid utilizing the vehicle's own battery. When the trip finally begins, the aid package's three components assure road safety.
Along with the Distronic adaptive cruise control, blind-spot assistance connected to the ambient lighting and an active lane-keeping assistant aid the driver in avoiding collisions. At the destination, a parking assistant takes over the process of finding a parking spot – at least in the future, when automated parking garages become more prevalent. Otherwise, if required, the EQS SUV may be parked remotely by smartphone.
Pricing and market entry
The EQS SUV will be available in 2022. However, it will be manufactured in the United States of America, at the Tuscaloosa factory. The entry-level vehicle and two all-wheel-drive variants will be followed by a Maybach and an AMG model. The pricing has not yet been determined. The opening offer for the EQS SUV 580 4Matic will be approximately 100,000 euros, based on the ratio of EQS to S-Class, while the EQS SUV 580 4Matic should get between 130,000 and 140,000 euros.
This is the new Mercedes-Benz EQS SUV, the company's first EV SUV constructed from the ground up. In essence, it's a tainted DQS. I'm going to tell you everything you need to know about it in this video by walking you around the outside and interior, demonstrating some of the vehicle's technology and fascinating features, including those running boards. I've just hopped off something fascinating about those tills, which I'll explain shortly.
Assume I purchased and sold an automobile; let's begin this video by discussing the design. The EQS SUV resembles an elevated EQS and, surprise has a similarly blanked-off grille.
There is a full-length date for the Mercedes three-point star. I'm running across the front in this manner. Naturally, you'll get led lights, but you can upgrade to a set with 1.3 million tiny mirrors that guide light precisely where it's needed. Now, the distinction between the EQs SUV and a standard saloon automobile is that the led daytime running lights on the EQs SUV are triangular in shape rather than the dots on the standard saloon car.
Mercedes will not let you beneath the hood for whatever reason, but earlier in the day, I observed a man working under the hood, so I now know how to get in there. In another video with one of these types of automobiles, Mercedes is observing me when I enter the UK and there isn't a cross-eyed German from Germany. I swear I'll show you what's underneath.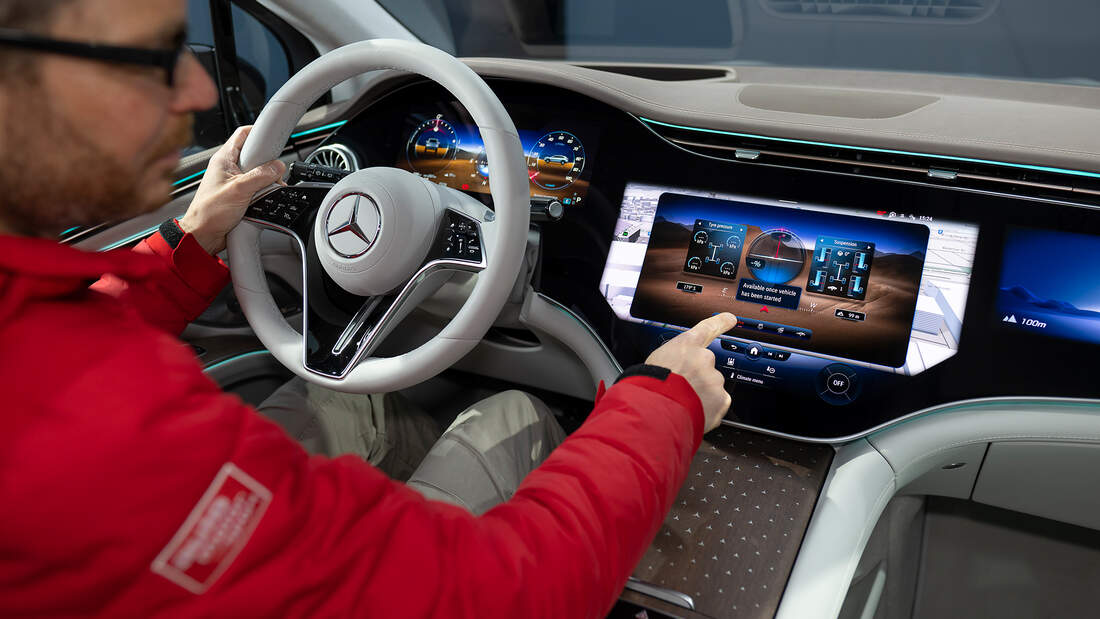 Because the hood does not open, you must fill it off with windscreen washer fluid through this small port, just as you would on the EQS. The wheelbase and distance between the front and rear wheels are identical to those on the EQS, as the vehicle shares the same floor design. On the other side, this SUV is nine centimeters shorter.
Mercedes would not specify the additional kilometers, but it will be greater and should make parking easier than the large EQS sedan. These running boards are optional accessories that you must purchase if you want them, but they can save you money by improving the car's aerodynamics, which results in more kilometers per charge.
There will almost certainly be only a few here towards the rear. You have a full-length light bar, which is rather attractive. You'll undoubtedly notice something else: the roof spoiler is black, giving this automobile the appearance of a coupe. You are correct; this line should be followed. He informed me that I was simply echoing what the Mercedes representative had said beneath. Yes, they did an excellent job constructing the floor.
This appears to be a pretty efficient automobile in terms of gliding through the air for an SUV. The EQS is the world's most aerodynamic product. This will not be nearly as excellent as that due to the small box shape, but it should still be rather amazing, which is one of the reasons Mercedes chose not to include roof bars, which are fairly popular on SUVs, as they do increase the risk of crashing.
On the inside, the design is identical to that of the EQs, except that you're sitting taller. However, you appear very low in comparison to the dash's height, which means your forward perspective isn't nearly as fantastic as you may believe. However, your forward vision is excellent here, especially if you have an improved hyper screen. That is, have a look at it. It's large, high-definition, and packed with features and functions.
If your passengers can look at a variety of things, including television, or more likely, YouTube or Netflix, you know who watches TV while driving these days, but this automobile may detect if you begin to peer over at what they're watching, which may distract you. If that occurs, their screens will become blank. It's astute. I believe it is also a type of clover. Consider this new trim that is being introduced.
Thus, you have ash wood here, but it has aluminum incorporated in it. Mercedes three-point stars are created by layering ash wood with aluminum, laser etching the stars, and then pressing the two together to embed the star into the wood.
From launch, the EQS SUV will be available in two configurations. The first is the 450 plus, which is powered by a single rear-axle motor and produces 360 horsepower and 568 newtons of torque. It can accelerate to 60 miles per hour in approximately 6.2 seconds. Then there's the 580, which has a motor on each axle and produces 544 horsepower and 858 newtons of torque, allowing it to reach 60 miles per hour in roughly 6.2 seconds.
Now, these automobiles are extremely hefty; the 450 plus weighs 2.6 tons, while the 580 weighs 2.7 tons. Now, the 580's all-wheel-drive technology is extremely ingenious.
Whichever EQ SUV you choose, it will all have rear-wheel steering. It can swivel the rear wheels up to four and a half degrees as normal, but you may upgrade to ten degrees for an additional fee. The basic automobile has a turning circle of 11.9 meters, but the enhanced rear axle steering allows for a complete round to be completed in just 112 minutes.
There is an abundance of space in the rear seats of the EQS SUV. Despite the panoramic glass roof on this car, a little woman is seated in the back. Hey look, thanks to that flat floor, I still have a lot of headroom, a lot of new rooms, and a lot of foot area. It's gorgeous and opulent. This model includes an improved rear infotainment kit, which enables me to operate numerous elements in the vehicle, including my massaging seats.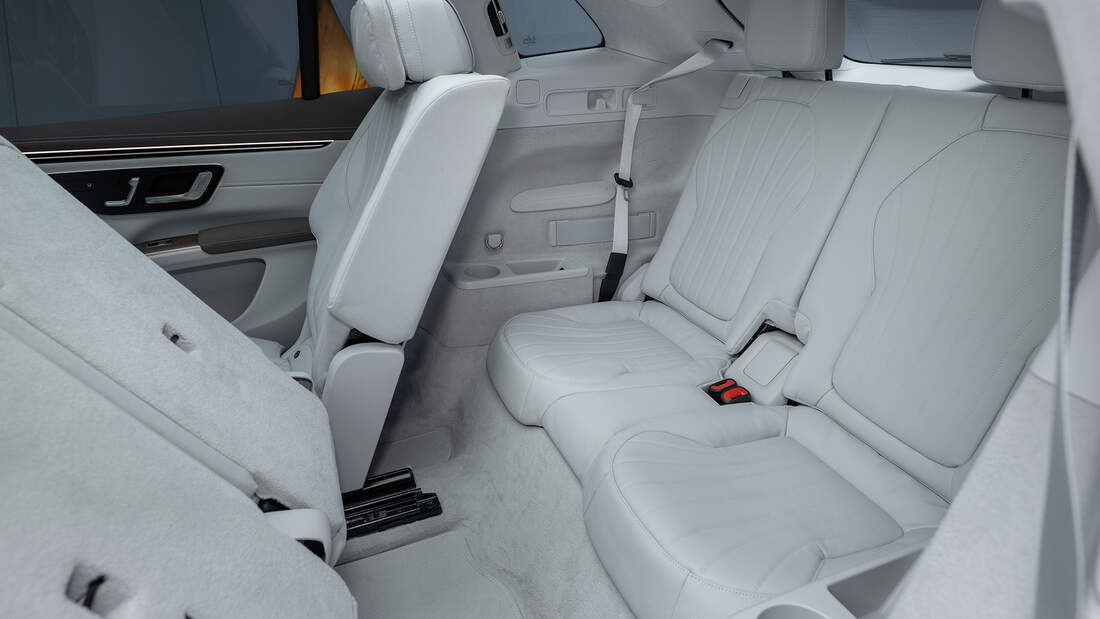 I can fold this down as well, and there is a tablet that you can pop out to reveal her. She is tucked away somewhere in this room. Hello, you are correct. I am able to advance my seat. Consider the following. Are you going to stop talking now? I can pull this seat forward 130 millimeters, which is quite a distance, yet even then there is still adequate knee room.
And that allows me to demonstrate another characteristic of this vehicle because have a look at this. Bring it on, bring it on. Indeed, take a look at this. This is a seven-passenger vehicle. Come on, return. Right. I have no idea how to reclaim this. Could you please assist me in reconnecting this? I'm in the process of pressing it. Simply push the button and it should function.
I completely depressed the button. Now I'm going to demonstrate the amount of space available. Can you arrange this seat in such a way that you'd be content to sit in it? Please proceed. You should investigate. Let's take a look at what's going on in the back. You may choose to recline somewhat. That is all. You are welcome to recline. You may now rise from your reclined position. So, no, you cannot. That is sufficient. Take the pee now.
However, it is possible. You may take a journey and, guess what, you can purchase this car with five-zone climate control to ensure maximum comfort. In the rearmost row, you can even purchase heated seats. Do you know how to get her to stop talking as well? Not yet, as Mercedes does not like to be surpassed by Porsche or Audi's motorized charging sockets.
If you drive away with it open, it simply closes, and this is not due to the wind pushing it back; it also closes electrically. In terms of electricity, this vehicle's battery pack has a capacity of 108-kilowatt hours. This gives you a range of 450 miles + around 370 miles. It can charge a DC charger at a rate of 200 kilowatts and has an onboard charging capacity of 22 kilowatts. Therefore, if you have that facility at home, you may charge it fairly quickly if desired.
You have an electric tailgate, and I can fold down the seats from here. Come on, it's quite acceptable to tumble down. That, indeed, is occurring. I can confirm that all models of this EQS SUV come standard with air suspension. If you have a full OH, they must be performed manually. If you own a four-wheel-drive vehicle, you already have my graph.
Indeed, if you're driving and need to raise the suspension to clear a high curb or anything similar, the car will remember the exact location of the obstacle and will automatically increase the suspension the following time, saving you from having to flap around. Naturally, if I'm going quickly on the highway, I'll lower the car to boost aerodynamics.
In terms of price, this starts at roughly 100,000 pounds and obviously increases as choices are added and the range is expanded. Speaking of which, there will be an AMG and a Maybach version of this. I understand what you're thinking: the seats do not fold flat; I should make a complaint. Rather than that, you should complain about the manner I did this, as I neglected to make the head wrist go flat.
I'm in a bit of a hurry since another group needs to be brought in here.